Chicago — The Colorado Rockies were happy to get one hit off Carlos Zambrano, let alone a pair of them.
Zambrano shut the Rockies down with a career-best two-hitter and the Chicago Cubs teed off on former teammate Shawn Estes for an 11-0 rout Friday.
Zambrano (3-1) was almost unhittable, retiring his first 14 batters and facing only two over the minimum.
"This kid is electric," Rockies manager Clint Hurdle said. "He overpowered us today. There's no doubt about that. He had everything and threw everything where he wanted to throw it with velocity, with tilt, with sharpness.
"They threw us a beating, basically."
A month shy of his 23rd birthday and in only his second full season in the majors, Zambrano is the rawest talent in the Cubs' dazzling rotation. But make no mistake, he's got the potential to be as nasty as Kerry Wood and Mark Prior. He hasn't given up a run in his last two starts, allowing five hits and striking out 17 in 16 innings.
Getting some help Friday from a wind that was gusting in at up to 22 mph, Zambrano walked none and struck out five in his second career shutout. He allowed four baserunners the entire afternoon and needed only 97 pitches.
"I felt good today," said Zambrano, who lowered his ERA to 2.18, the best of the Cubs starters. "I tried to let them put the ball in play, and that's what happened."
That doesn't begin to describe how tough Zambrano was, though. The Rockies only got four balls out of the infield. They didn't have a hit until Matt Holliday's two-out single between short and third in the fifth inning.
Luis Gonzalez reached on shortstop Ramon Martinez's error in the sixth inning, but was doubled off one batter later. Zambrano then retired seven straight before hitting Gonzalez in the ninth. He gave up his second hit to Aaron Miles, but ended the game with a double play.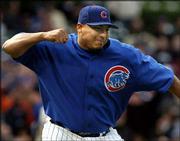 Zambrano's previous low-hit game was a three-hitter against Arizona last August.
"He could have easily gone out there and not given up a hit today. He had that kind of stuff," Estes said. "Hats off to him. He pitched a great game. One run would've been too many today."
And the Cubs gave him way more than that, with Corey Patterson driving in four runs and Sammy Sosa and Ramon Martinez each getting two hits and two RBIs.
Estes (4-2) gave up a season-high nine runs and seven hits, walking five while hitting one.
"He didn't give himself a chance," Hurdle said.
Phillies 4, D'backs 1
Phoenix -- Vicente Padilla earned his first victory of the season and Jim Thome hit his 10th home run to lead Philadelphia over Randy Johnson and Arizona. Padilla (1-4) allowed one run -- Steve Finley's homer -- on five hits in six innings, striking out five and walking one intentionally. With the score tied 1-all and a runner on first in the sixth, Johnson (3-3) was pulled by manager Bob Brenly after striking out 10.
Astros 5, Braves 3
Atlanta -- Jeff Kent drove in three runs and Tim Redding took advantage of Atlanta's depleted lineup, allowing one run in six innings to lead Houston past the Braves. Redding (1-3) had been knocked around in his first four starts, coming into the game with a 10.57 ERA.
Giants 6, Reds 1
Cincinnati -- Manager Dave Miley's decision to walk Barry Bonds backfired when Pedro Feliz followed with a homer, sparking San Francisco over Cincinnati. Left-hander Kirk Rueter (1-3) limited the Reds to three hits and no walks in eight innings. He also had an RBI double in the Giants' four-run eighth, completing his breakthrough performance.
Expos 4, Cardinals 2
Montreal -- Brad Wilkerson and Terrmel Sledge hit two-run homers in the first inning to lead Montreal over St. Louis. Sun-woo Kim (2-0) allowed one run and seven hits over six innings in his second start since joining the rotation.
Marlins 3, Padres 1
Miami -- Mike Lowell hit two home runs, Carl Pavano pitched eight sharp innings and Florida beat San Diego. The Padres had two players ejected, including starting pitcher Jake Peavy after he hit Pavano with a pitch with two outs in the seventh inning. Lowell led off the second inning with a drive that traveled an estimated 402 feet into the left-field stands.
Brewers 7, Mets 5
New York -- Keith Ginter, Lyle Overbay and pinch-hitter Ben Grieve homered and Milwaukee defeated New York, ending the Mets' four-game winning streak. The Brewers won for just the second time in seven games.
Dodgers 4, Pirates 0
Pittsburgh -- Wilson Alvarez pitched perfect ball into the sixth inning before Chris Stynes reached on an infield hit -- Pittsburgh's only runner of the night -- and Los Angeles beat the Pirates. Alvarez (1-0), combined with Guillermo Mota on the one-hitter.
Copyright 2018 The Associated Press. All rights reserved. This material may not be published, broadcast, rewritten or redistributed. We strive to uphold our values for every story published.