Now, if only they can keep this up today, when it REALLY counts.
After the first day of the Sunflower League girls swimming and diving championships, Lawrence High and Free State are feeling good about where they stand. Though no team scores officially were kept during Friday's preliminaries, not too many city swimmers swam below their projected seedings.
When the real test, today's finals, begin at the Lawrence Indoor Aquatic Center, the Lions and Firebirds hope to equal Friday's output -- if not better it.
"We were a lot better than expected," LHS coach Ryan Adams said. "If we maintain that tomorrow, I'll be very happy."
The Lions qualified two relays and five individuals for today's championship finals. Four more will compete in the consolation finals.
Among the Lions' top individual finishers were Chelsea Dirks-Ham (third in the 50 freestyle), Kristi Rudman (third in the 100 breaststroke) and Melissa Little (fourth in the 200 freestyle, fifth in 500 freestyle). Julia Szabo also qualified for the championships, qualifying fifth in the 100 butterfly.
"We did a lot better than we thought we would do," Szabo said. "(Adams) gave us a little pep talk, and it worked out."
At last year's league championships, LHS seemed hexed by having multiple 13th-place finishes. Only the top 12 advance to the final day.
This year, the Lions fared better. Nobody finished 13th, though in the first two events there were a couple of seventh-place finishes --one spot short of qualifying for the championship finals.
"Seventh place is like getting socks for Christmas," Adams said. "You're excited for getting it, but you were kind of hoping for a little more."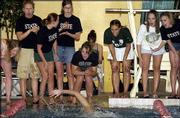 Free State's in the same boat.
The Firebirds had a few crummy 13th place finishes -- and a couple of seventh-place showings, as well.
Regardless, Free State is in good shape overall, too. Sophomore Ashley Robinson led the charge again, easily qualifying first in the 200 individual medley and 500 freestyle events. Katie Swank also led two events -- the 100 freestyle (54.65) and the 100 breaststroke (1:08.92).
The Firebirds also snagged top seeds in the 200- and 400-freestyle relays, and Ashley Jackson, Lauren Pipkin and Whitley Jackson qualified for today's championship finals in at least one event. The Firebirds have 11 additional entries in the consolation finals.
"A lot of people have room for improvement," Robinson said. "I think we can do good tomorrow."
Diving was the only event that didn't take start Friday. Five city divers -- Lawrence's Meredith West and Ellie Lloyd, and Free State's Cambry McNabb, Carol Fittell and Erin Berner -- will participate in an 11-dive final starting at 9 a.m. today. The swimming finals will begin at 1 p.m.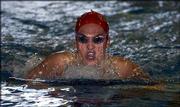 Copyright 2018 The Lawrence Journal-World. All rights reserved. This material may not be published, broadcast, rewritten or redistributed. We strive to uphold our values for every story published.