Cliff Elston had a choice -- start a business or be overrun by irises.
About 25 years ago, the rural Lawrence resident's flower hobby turned into a business called The Iris Place.
From late April through mid-May, Elston turns his flower bed at 1578 N. 962 Road into a business selling iris bulbs. Mother's Day weekend traditionally marks the season's peak.
"We'll have four people digging up flowers and we'll all be busy all day," Elston said. "Everybody wants to make sure they get a flower for mom."
They'll have plenty of choices. Elston said his flower bed had 400 varieties of irises and about 2,000 plants. The size of the 20,000-square-foot garden lends to its beauty, but it's also what created a problem for Elston about 25 years ago.
The perennial flowers are unique because they produce new bulbs that create new plants. One iris bulb will eventually turn into dozens if it's not divided. If the bulbs are not divided, the plant will become so crowded that it won't bloom.
"I would buy a few bulbs here and there, and then it just got to be that I had so many that I was having to give them away, and people said I should start selling them," Elston said.
Ron Lash, one of three family members who helps Elston run the business, estimated the garden would attract about 300 people today and Sunday. The business, which is about four miles south of 31st Street and Haskell Avenue, is open from 10 a.m. to dusk Sunday through Saturday during its short season.
Lawrence resident Harriet House, who was shopping Friday at the garden, said she enjoyed coming to the business because it allowed her to see the plants in their natural setting rather than in a greenhouse.
"It is just so peaceful to come out here and look," House said. "Plus, I want the unique ones, so this is the place to go."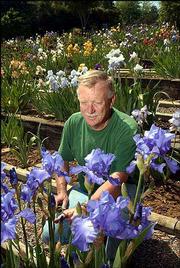 The business boasts of having an iris in about every color of the rainbow except green or bright red. Elston said the traditional yellow and purple irises were customer favorites, but many also liked the odd colors.
"Black ones are a pretty good seller, I guess because there aren't that many opportunities to buy a black flower," Elston said.
Some of the flowers also have unique smells. Elston said one smelled like root beer and another smelled like grape soda.
Most of the plants sell for $5 to $6 per bulb, but some of the rarer varieties range from $20 to $30. Elston said the business, which is just a part-time venture for the pipefitter, made enough to buy new stock for the next year but not much more.
"It is mainly for the enjoyment of the flowers," Elston said. "It's not for the money."
Lash, Elston's cousin, said he sometimes wondered why Elston and his crew kept running the business year after year. He said the weeding, planting and dividing was hard work.
But Lash said his wife, Linda, frequently reminded him.
"She just can't wait to see the new flowers bloom," Lash said. "It makes her day when they come up. You can see a picture of one in a book, but it doesn't really do it justice."
Copyright 2018 The Lawrence Journal-World. All rights reserved. This material may not be published, broadcast, rewritten or redistributed. We strive to uphold our values for every story published.