Health officials have launched a public awareness campaign to prevent a repeat of the cryptosporidium outbreak that hit Lawrence in summer 2003.
Kay Kent, director of the Lawrence-Douglas County Health Department, said there was no way to know if last year's outbreak meant the city would remain vulnerable to the diarrhea-inducing parasite this summer.
"There's been no scientific study of that," Kent said Friday. "So we're being proactive and cautious, so we don't have this problem again."
The campaign focuses on hygiene, by encouraging people to wash their hands after using the bathroom and before eating. It also encourages swimmers to stay out of the water if they have symptoms of cryptosporidiosis.
"We've got to get the word out to the public about healthy behaviors, healthy swimming behaviors," Kent said. "The most critical is this: Don't swim if you have diarrhea."
Pool and day-care operators say they are redoubling safety efforts that were already in place. The city's outdoor pool opens Memorial Day weekend.
"I think we were just woken up a little last year," said Jimmy Gibbs, the city's aquatics supervisor. "As we head into this year's outdoor (swimming) season, it's at the tip of our minds."
Changed ways
The first cases of "crypto" in Lawrence were diagnosed in July 2003. Among the initial victims was at least one member of the Kansas University swim team.
The Health Department came under criticism because it didn't alert the broader public about the parasite until late August, when authorities closed swimming pools after 11 cases had been confirmed.
Eventually, 96 cases were diagnosed in northeast Kansas -- 89 in Douglas County, the majority of those in Lawrence -- and more than 600 other probable, but unconfirmed, cases identified by community surveys. Though the illness can be fatal, no one died.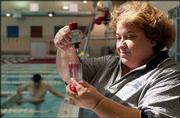 After the outbreak, the federal Centers for Disease Control and Prevention recommended that, in future outbreaks, the public be immediately alerted when a crypto victim has been in a swimming pool during the infection period. Kent said Friday her department would follow the recommendation.
But health officials are more interested in stopping an outbreak before it gets to that point. In recent weeks, they've met with pool managers and day-care operators to review prevention methods, and they've asked Douglas County doctors to consider testing for crypto in cases of persistent diarrhea; such tests have not been standard practice in the past.
Health Department employees also have distributed "healthy swimming" fliers and brochures at community events, including last month's Children's Health Fair.
"We've been talking about ways to get that message out before they get to the pool," said Charlotte Marthaler, director of policy and planning for the health department. "When you get to the pool, you want to swim."
Education the key
The Lawrence-Douglas County Health Department offers these tips for healthy swimming:¢ Stay out of the pool if you have diarrhea; this is especially important for children in diapers.¢ Avoid swallowing pool water.¢ Wash hands with soap and water after using toilets or changing diapers.¢ Take children on bathroom breaks often.¢ Change diapers in a bathroom, not poolside.¢ Wash children thoroughly -- especially their rear ends -- before they go swimming.
Gibbs, the aquatics supervisor, said visitors to Lawrence public pools would see more signs this summer reminding swimmers to wash their hands and stay out of the water if they're sick.
"I'm sure some people will think we've gone overboard on signs," Gibbs said.
The city "hyperchlorinated" pools last year to kill off the parasite, but that's not an everyday option when swimmers will be in the water, Gibbs said.
"In lieu of that, a lot of it is awareness," he said.
Audrey Giermann, an assistant in management at La Petite Academy, 3211 W. Sixth St., agreed.
"I think we do well when it comes to cleaning, to making sure kids wash their hands after they go to the bathroom, go to eat, blow their nose," she said. "Standard safety precautions."
Officials hope those precautions will keep them from shutting down the pools again this summer.
"We want people to go to the pool," Kent said. "We want to keep the pools open."
Copyright 2018 The Lawrence Journal-World. All rights reserved. This material may not be published, broadcast, rewritten or redistributed. We strive to uphold our values for every story published.