Tim Stauffer knows what a pain in the nose spring allergies can be.
"I just start sneezing," the 19-year-old Kansas University freshman said this week. "My eyes start watering, getting puffy. I don't know, the sinuses get a little sore, maybe."
Yet there Stauffer was Tuesday afternoon, studying on a bench in downtown's Buford M. Watson Jr. Park -- amid all the trees, grass and flowers you might think would spark the sneezes.
The scene was possible because of a prescription antihistamine Stauffer's been taking for three years.
Before that, he would have studied in the park "with a box of Kleenex," Stauffer said. "That'd be the only way."
Stauffer is not the only one.
A new study shows Lawrence is next door to one of the worst allergy cities in the nation.
Kansas City this week was ranked as the nation's worst place to live with allergies in a study by Sperling's BestPlaces, an Oregon-based company that offers a number of city rankings.
In the four-year study of the 100 largest metropolitan areas, Sperling's found Kansas City led the nation in ragweed pollen, the late-summer culprit for hay fever. It also had significant amounts of tree and grass pollen, and mold spores.
"Ragweed is the real killer," said Bert Sperling, president of the research company. "But Kansas City sort of gets an MVP award for all-around high levels."
That didn't surprise Dr. Ron Weiner, a Lawrence allergy expert.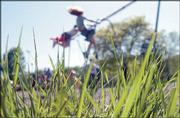 "I think we have pretty long pollen seasons," he said. "I think it doesn't get cold enough long enough to kill much mold, even in the winter."
Weiner said 20 percent of the population had some form of "inhalant" allergy to airborne allergens. Spring, however, may not even be the worst time of year for Lawrence allergy sufferers. It just seems that way for people with spring allergies -- which are mostly to the tree and grass pollens that proliferate at this time of year.
"In the Midwest, in the area we live in, there are more people that are bothered in September than at any other time because of weed pollen, ragweed pollen," Weiner said.
Ragweed, he said, is the top allergen in the Lawrence area and is most prevalent in September. Dust mites and mold are nearly tied, and they cause problems year-round.
Grass and tree pollen follow close behind, with those worst seasons for each being March through June.
Grass pollen is likely to bother a victim's eyes more; tree pollen strikes at the nose. Ragweed targets both. Usually, though, the allergen affects the sufferer in several different ways.
"The symptoms are the same," Weiner said. "Whether you have a grass allergy or a tree allergy or a weed allergy, the symptoms are the same and the treatment is the same, as far as medicine."
Learning more about your allergy might be the first step to solving it, he said.
"The best thing to do might be to figure out what you're allergic to," Weiner said, "so you can do the right thing for the right reason at the right time."
Stauffer said he doesn't know what he's allergic to. The Allegra he takes has put the worst of his allergy problems behind him.
"It's just been nice, not to worry about it," Stauffer said. "I don't have to think, 'Oh, it's allergy season, I have to go inside.'"
---
6News reporter Brooke Wehner contributed to this story.
Dr. Ron Weiner's top tips for reducing allergy symptoms:¢ Stay inside during the early-morning and early-evening hours, when pollen and mold spores are at their most active. But you still may get the sniffles. "I really think you're going to be bothered, even if you're not out at the worst possible time of day," Weiner said.¢ A prescription cortisone nasal spray may be effective. But he warned against over-the-counter nasal sprays as potentially addictive.¢ Antihistamines are Weiner's third choice. He recommended Loratadine, an over-the-counter drug best known under the brand names of Claritin and Alavert.¢ For those willing to spend more time and money, allergies can be reduced up to 80 percent by submitting to two years' worth of allergy shots.
Copyright 2018 The Lawrence Journal-World. All rights reserved. This material may not be published, broadcast, rewritten or redistributed. We strive to uphold our values for every story published.