"Wild Kingdom" met "A Wedding Story" Wednesday morning in downtown Lawrence.
About 8:30 a.m., a young whitetail deer crashed its way into Randall's Formal Wear, 815 Mass., leaving behind a trail of blood, broken glass and some stunned onlookers.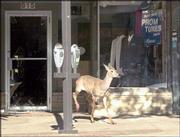 "It came through our front glass window door," said Jamie Fisher, the store's assistant manager.
Fisher said she wasn't at the store at the time but heard from police who investigated what happened. Police said the animal walked around to the back where the formal shop is connected to Marks Jewelers, 817 Mass.
"It just broke a vase back where the Marks Jewelers' china is," Fisher said. "Then the police helped to just shoo it back out the hole that it made in the door."
The animal later was seen running east at Seventh and New Hampshire streets.
Fisher said there was some blood on the formalwear shop's carpet and a couple of the fitting mirrors. None of the formalwear was damaged.
"We were lucky, " Fisher said.
The deer, which apparently suffered only minor injuries, escaped. Young deer begin to drift away from their mothers in late spring.
Copyright 2018 The Lawrence Journal-World. All rights reserved. This material may not be published, broadcast, rewritten or redistributed. We strive to uphold our values for every story published.