Sierra Club to offer tours of water, sewer plants
The Wakarusa Group of the Sierra Club is offering tours Saturday morning of the city's Kaw River Water Treatment Plant and Wastewater Treatment Plant.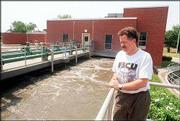 Participants will learn how drinking water is processed, contaminants are removed and chemicals purify the water, as well as where the water comes from, the dangers of agricultural chemicals and how waste is processed.
Participants must bring photo identification for security reasons. Those interested should meet at 9 a.m. at the water plant, 720 W. Third St., and at 10:30 a.m. at the wastewater plant, 1400 E. Eighth St. Space is limited. Contact Byron Wiley at 841-2829 or bwiley@sbcglobal.net for a spot.
Accident
Assistant professor dies from injuries in wreck
A Lawrence woman critically injured in a head-on collision Monday in Leavenworth County died Tuesday at University of Kansas Hospital in Kansas City, Kan.
Debra Park, 32, had to be extricated from her car by rescue workers after the accident occurred on Kansas Highway 32 a half-mile east of Linwood, sheriff's officers said.
Park was an assistant professor at KU Hospital in the Ear, Nose and Throat Department.
Park's son, Andrew Park, 2, was a passenger in her car and was secure in a child's seat, the report said. He was taken to Children's Mercy Hospital in Kansas City, Mo. No information about his condition has been available.
Kansas University
Dole Institute to play host to Iraq conference
A two-day conference examining the consequences of the Iraq War one year after it began will take place at Kansas University's Dole Institute of Politics.
The conference starts Friday. Keynote speakers will be James Lindsay, vice president of the Council of Foreign Relations in New York, and James Pfiffner, university professor at George Mason University's School of Public Policy in Fairfax, Va.,
The conference runs from 1 p.m. to 5:30 p.m. Friday and from 8:30 a.m. to 1:30 p.m. Saturday.
For a detailed schedule of events, contact the Dole Institute, 864-4900, or visit its Web site, www.doleinstitute.org.
Gasoline prices
Pump Patrol seeks deals
The Journal-World has found Lawrence gasoline prices as low as $1.82 at Presta Phillips 66, 602 W. Ninth St., and Citgo, 2005 W. Ninth St.
If you find a lower price, call the Pump Patrol at 832-7154.
Copyright 2018 The Lawrence Journal-World. All rights reserved. This material may not be published, broadcast, rewritten or redistributed. We strive to uphold our values for every story published.