Baghdad, Iraq — The U.S. commander overseeing Army-run prisons in Iraq said Tuesday that the population of overcrowded Abu Ghraib prison would be cut by more than half and that he has ordered military intelligence operatives to stop placing hoods over their heads as an interrogation tactic.
Maj. Gen. Geoffrey Miller, 54, who previously commanded the military prison at Guantanamo Bay, Cuba, was unapologetic about the use of tough tactics designed to draw out information from detainees, but said that he had directed interrogation supervisors to strictly follow Army rules detailing what techniques can be used.
"We're here to enable the armed forces to win this fight that's ongoing," Miller said he told his subordinates. "At the end of the day you'd better make sure that what we've done will make America proud."
Miller was made deputy commander for detainee operations in Iraq last month, weeks before images of detainees being physically and sexually abused at Abu Ghraib in November and December were broadcast around the world.
Last spring the military took over Abu Ghraib, which had been President Saddam Hussein's most notorious prison. Since then it has held as many as 7,000 prisoners. Miller said he would reduce the population to a maximum of 1,500 to 2,000 but did not explain how the reduction would be achieved or specify a timetable.
The U.S. military runs two other large prisons in the southern port city of Umm Qasr and at Baghdad International Airport, where so-called high-value detainees are held, plus 11 smaller detention facilities, where prisoners can be held for up to 14 days before a decision must be made to release them or transfer them to one of the three main prisons.
Interrogation tactics
In the interview, Miller offered details of the procedures used to rattle, persuade or intimidate detainees to divulge information about their methods and organizations.
Each interrogation at Abu Ghraib is conducted by a "tiger team," comprising one or two interrogators, a translator and a linguist, Miller said. An analyst, typically an older or more experienced interrogator, observes the questioning from a separate viewing room.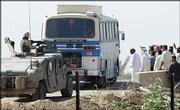 "Every interrogation must have an interrogation plan that lays out the techniques that will be used to be able to garner the information that is laid out in that interrogation plan," Miller said. "The interrogation team submits this up to their interrogation supervisor, who lays that out. That's one of the safeguards and checks that we use to ensure that our interrogation teams are following our guidance."
No physical contact
Miller said the use of "physical contact" and threats against detainees was prohibited. Last week, he said, he banned the use of hoods to cover the heads of detainees during transport. Instead, military officers have been directed to use "pressure bandages" or goggles to cover the eyes of detainees when transporting them.
The use of hoods within the prisons was halted more than a month ago, Miller said. Several of the photographs depicting abuse of Abu Ghraib detainees, which taken in November and broadcast last week on the CBS's "60 Minutes II," showed some prisoners wearing dark-colored cloth hoods.
"We just made the decision we did not want to use that technique," Miller said. "I believe it sends a message we do not want to send to the civilian population."
Miller said interrogators generally cannot deprive prisoners of sleep or force them to sit or stand in uncomfortable positions, but he did not say there was an outright ban on those techniques. "We do not use stress positions, we do not use sleep deprivation, unless that is approved at the general-officer level," he said. "We follow the tenets of the Geneva Convention, and so the basics of the Geneva Convention -- shelter, medical care, food -- are never used as a manipulation tool."
Former military guards at Abu Ghraib said it was common to limit prisoners' sleep to four hours a day.
Copyright 2017 The Lawrence Journal-World. All rights reserved. This material may not be published, broadcast, rewritten or redistributed. We strive to uphold our values for every story published.