Wood shingles may look pretty on a rooftop, but Stewart Nowlin doesn't want them on top of his house.
"It endangers the safety of the family and of the neighbors," Nowlin said last week.
He believes the "shake" shingles are more prone to burn than other types, and the fire chief agrees with him. Nowlin would like to replace the wood shingles on top of his home in the 4600 block of Harvard Road with ones made of another material, such as asphalt.
He can't.
A restrictive covenant in Nowlin's neighborhood forces him and neighbors to use only wood shingles on their homes. The covenant, essentially a contract between neighboring homeowners, is apparently designed to preserve the appearance of the neighborhood, whose houses were built with the wood shingles during the late 1990s.
So Nowlin has taken his case to City Hall, asking the Lawrence City Commission to pass an ordinance that would allow him and other homeowners to override covenants for safety reasons.
And commissioners are listening.
"I think it's time to put safety ahead of aesthetics," Mayor Mike Rundle said.
'Easily ignited'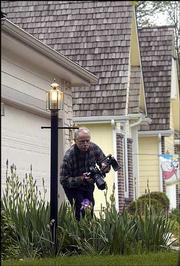 Just how many shake-shingled roofs are in Lawrence is unknown, but they're often seen on newer houses in western Lawrence.
"Cedar shakes and shingles are considered to be aesthetically pleasing and are included as a roofing option by developers in upscale neighborhoods," wrote John Neeleman, a lawyer for The Cedar Shake and Shingle Bureau in a lawsuit against Shawnee's ordinance banning the wood shingles from future construction.
Developers and home builders in Lawrence say they're sympathetic to Nowlin's concerns. But they're leery of City Hall trying to override covenants, worried about the effects it would have on the appearance of neighborhoods. Plus, they say, neighbors can band together to change the contract themselves, without government interference.
"When someone purchases a property, they're aware of the covenants," said Bobbie Flory, director of the Lawrence Home Builders Assn.
An ordinance overriding a covenant, she said, "is changing the rules of the game after the game has begun."
Jim McSwain, chief of Lawrence-Douglas County Fire & Medical, would like to see such an ordinance, however. Shake shingles, he said, are "a hazard."
"They burn," McSwain said. "They're easily ignited once they've dried out, been on the roof during hot Kansas summers."
That's why the shingle covenants should be outlawed, Nowlin said.
Flory, though, said new wood shingle products have the pleasing wood appearance but are made to be more fire-resistant.
"If it meets (construction) code," she said, "that's where the city's responsibility ends."
Court problems
Legal obstacles face any effort by City Hall to interfere with neighborhood covenants.
The city of Shawnee lost a federal lawsuit in 2003 when it tried to invalidate shake shingle requirements in neighborhood covenants. That city responded by saying wood shingles cannot be required in covenants of future developments -- and is being sued once again.
The Lawrence City Commission last month directed city staffers to research options for an ordinance here. Officials say they don't know when that research will be complete.
There may, however, be fewer new shake-shingled homes in Lawrence's future.
Doug Stephens, whose company sold Nowlin's house to him new in 1998, said he's getting away from the wood-lined rooftops.
"Quite frankly, they're an attractive roof, but for this part of the country, they're higher maintenance," Stephens said.
Nowlin is worried about his own home, though, not future construction. And he's not too worried about how his own roof looks, only about its fire resistance.
"We're talking about safety," he said. "Not design."
Copyright 2018 The Lawrence Journal-World. All rights reserved. This material may not be published, broadcast, rewritten or redistributed. We strive to uphold our values for every story published.