Louisville, Ky. — Somewhere down the middle of this stretch -- somewhere past the rain-drenched crowd and the slop-and-mud that fluttered in the air -- an improbable fairy tale came clearly into focus.
It came splashing toward the finish line Saturday at Churchill Downs in the form of Smarty Jones.
A diminutive, modestly bred colt from Pennsylvania who nearly died last spring, Smarty Jones became the first undefeated Kentucky Derby winner in 27 years when he drove away from 17 rivals under jockey Stewart Elliott to win the $1.15 million Derby by 23/4 lengths.
Trained by John Servis and bred and owned by Roy and Patricia Chapman, Smarty Jones tracked the pacesetter Lion Heart before driving by him an eighth of a mile from the finish to cover a sloppy 11/4-mile track in 2:04.06. Lion Heart held gamely for the place while Imperialism, trained by 21-year-old Kristin Mulhall, finished third before a crowd of 140,054.
"When he came to the eighth pole and drew off ... if my knees weren't buckling I would have fallen out of my box (seat)," said Servis, a Philadelphia-based trainer making his Derby debut.
An improbable story but true. A story about a colt who banged his head so severely while being schooled in the starting gate last year that he fractured his skull, several bones around his eye, and his survival was "touch and go," according to Servis, before being treated at the New Jersey Equine Center.
A story about the Chapmans, who dispersed much of their racing stock three years ago when their trainer, Robert Camac, was murdered by his stepson. One of the few horses they decided to keep? Smarty Jones.
And the story of Stewart Elliott, who the Chapmans and Servis stuck by despite his inexperience in big races and several offers from some of the biggest jocks in the game to ride the colt.
"I don't think this horse has ever gotten the respect he deserves," Roy Chapman said.
That changed Saturday. Smarty Jones now is undefeated in seven races -- the first undefeated Derby winner since Seattle Slew swept the Triple Crown in 1977 -- and picks up a $5 million bonus from Oaklawn Park for becoming the first Derby winner to win their Rebel Stakes and Arkansas Derby.
The money is notable, but it was roses Smarty Jones was chasing here Saturday.
Breaking cleanly away from the gate, Smarty Jones chased Lion Heart into the first turn with a group of four other horses. Elliott admitted "things kind of bunched up." But he got position around the turn and entered the backstretch a close fourth.
"When we left the gate my horse was probably the most relaxed he's ever been and right then I knew the distance wasn't going to be a problem," Elliott said. "I was just concerned on getting a good trip. We started to get bunched up a little bit, but I just nudged him to keep my position in there and he did the rest."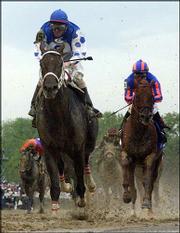 While Blue Grass runner-up Lion Heart set fractions of :22.99, :46.73 and 1:11.80, Elliott moved into second and waited patiently until Lion Heart was asked for more by jockey Mike Smith entering the final turn.
Elliott didn't hesitate, and moved Smarty Jones toward the leader around the turn and entering the stretch. A head separated the two horses entering the stretch.
"When they were going head-to-head I could see Stu really had not asked (Smarty Jones) yet, and I was starting to feel really good," Servis said.
Despite a courageous effort from Lion Heart, he couldn't hold off Smarty Jones.
The fairy tale was complete.
"I had a great trip and every opportunity to beat him," Smith said, "but Smarty Jones had another gear today."
Trainer Nick Zito, who watched his Blue Grass Stakes winner The Cliff's Edge finish fifth after losing his two front shoes during the running of the race, called Smarty Jones "a champion."
"We never raced at this level," said Roy Chapman, 77, confined to a wheelchair and his breathing helped by an oxygen machine. "We never thought we would get here, until we met Smarty and this guy (Servis) sitting next to me.
"I'd like to add something before I forget. The first day we saw Smarty, watched him work out, he (Servis) sat down with me and said, 'Chappy, this is a nice horse. This horse could go somewhere.'"
Past the mud and rain to the roses.
Copyright 2018 The Lawrence Journal-World. All rights reserved. This material may not be published, broadcast, rewritten or redistributed. We strive to uphold our values for every story published.