When Audree Kamb-Studdard, 69, re-entered the dating scene almost three years ago, she realized some things hadn't changed in almost 50 years. She still had first-date jitters.
"When he asked me out it produced a feeling of nervousness," Audree said. "I wasn't sure I wanted another relationship."
"He" is John Studdard, 72, who became her husband last year.
In fact, Audree turned John down the first time he asked her to get ice cream after their square-dancing class at Prairie Commons Apartments. Rejection didn't discourage him, though. He tried again the next week.
"I decided an ice cream cone was harmless," Audree said.
Audree and John dated for more than a year before tying the knot. They will celebrate their first anniversary May 18.
The couple have been on several vacations since they said "I do."
They just recently returned to their Lawrence home after a monthlong trip to Australia. In the last year, they also have traveled to St. Croix in the Virgin Islands, Niagara Falls, Pioneer Village in Nebraska, Cleveland, and Branson, Mo.
"Our approach to this whole thing is that we both have the health and resources to travel. We're going to do it while we can," John said.
John and Audree have kept parts of their lives separate even after marriage. They're both Protestant, but Audree attends First United Methodist Church while John is a member of University Community of Christ.
"Religion is important to us, and we see it from different viewpoints," John said.
The main reason both John and Audree wanted to remarry was for companionship. But companionship alone, Audree said, was not enough for some seniors to remarry.
She said some seniors remained single because they wanted to ensure their inheritance went to their own children, and they didn't want to be responsible for anyone else's health care.
"A lot of singles do not get married," she said. "Marriage is a legal agreement that carries financial implications."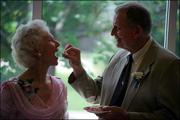 Before getting married, both John and Audree had health checkups, and, to help alleviate financial worries, they signed a prenuptial agreement.
"We both have assets we want to make sure go to the right people," John said.
Audree and John are trying to share household chores, such as vacuuming and scrubbing the toilets.
"That's what younger people are doing better than our generation," Audree said. "In our day, a boy who was raised by his mother and got married after he moved out of the house knew none of this."
One advantage to age, Audree said, was that people who date in their older years don't play games. Both John and Audree were divorced before they met each other. Audree had been married 38 years; John, 42.
"We all have bumps and scars," Audree said. "We don't have to impress each other like we did as younger people. We all know that somewhere in our lives there are wounds."
Audree and John agree that their marriage is easier because they don't have the stresses of jobs and children. Together they are planning their next trip, this time to Colorado.
"We have a lot of fun together," John said. "Companionship is just wonderful. I finally got a travel partner."
Copyright 2018 The Lawrence Journal-World. All rights reserved. This material may not be published, broadcast, rewritten or redistributed. We strive to uphold our values for every story published.