Six days ago, the goal of Kansas University's softball team to close out the regular season on a five-game winning streak might have seemed far-fetched.
Not so after Saturday's victory over Texas.
Three days after shutting out No. 13 Nebraska, 3-0, on the road, the Jayhawks returned home to blank the Longhorns by the same score Saturday on dedication day of Arrocha Ballpark.
"I knew we'd give them a run for their money. We had a good game plan," said shortstop Destiny Frankenstein, who led KU by going 2-for-3.
Kansas put the clamps on one of the most potent offenses in the country with -- in the words of KU coach Tracy Bunge -- "a one-two punch" of pitchers Kassie Humphreys and Kara Pierce.
"We knew the key to the game was keeping their lineup down," Bunge said.
Humphreys was able to work both sides of the plate and record six strikeouts before being replaced by Pierce in the sixth inning.
"It's good being a freshman," Humphreys said. "They don't have years and years of stats on you."
Texas came away with just three hits, but the Jayhawks didn't do much better with six of their own.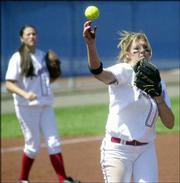 A one-out, two-RBI single by center fielder Mel Wallach in the first inning scored left fielder Heather Stanley and Frankentstein to give Kansas an early 2-0 lead.
The Jayhawks didn't score again until the sixth inning, leaving six runners on base before senior first baseman Leah Mountain walloped a pitch by Christina Gywn over the left-field fence.
KU's Serena Settlemier also cleared the fence in the inning as well, but the shot was negated after Nettie Fierros was ruled to have left first base too early.
Texas did have its chances to score, but left six runners on base, including leaving the bases loaded in the sixth.
In the fourth inning, Wynter Turner of the Longhorns came a couple of feet short of a home run, but a back-pedaling Wallach snagged the ball in center field.
"I thought that ball was over the fence, and then I turned around," Wallach said.
With the victory, Kansas (29-25 overall, 5-10 Big 12 Conference) knocked Texas (23-20, 5-11) from seventh place in the league.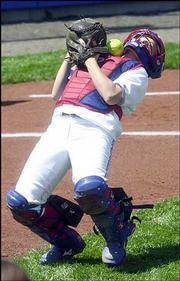 More importantly for Bunge, her team is starting to play better consistently.
"This team is playing with a lot more confidence than they did two weeks ago," Bunge said. "That's the big thing."
Kansas will finish its two-game series with Texas at 1 p.m. today before closing the regular season with two home games against Iowa State next weekend.
Copyright 2018 The Lawrence Journal-World. All rights reserved. This material may not be published, broadcast, rewritten or redistributed. We strive to uphold our values for every story published.