Moscow — Workers and activists across the world used May Day rallies Saturday to press demands as varied as strengthened labor rights, an end to the war in Iraq and reunification of the Koreas.
In the only apparent violence on International Workers Day, clashes erupted between youths and police in Berlin after a peaceful leftist demonstration. About 170 people were arrested.
Besides the usual calls for fair wages, pensions and benefits, Russian Communist Party leader Gennady Zyuganov lashed out at the U.S.-led military campaign in Iraq.
"Today it is important to protest the war unleashed by America and NATO in Iraq," Zyuganov told several thousand supporters in Moscow at a Communist and trade union-organized rally.
In El Salvador, thousands of workers, some with signs reading "Yankees out of Iraq," marched through the capital, San Salvador, to protest Salvadoran troops in the U.S.-led coalition. "Bring the troops home!" many chanted.
"This is not our war," said the Rev. Ricardo Cornejo. "There is no reason why our soldiers should die in Iraq. ... We ask God to guide President (Francisco) Flores so that he orders the return of the troops."
In the Ukrainian capital of Kiev, about 20,000 people attended Communist- and Socialist-organized rallies, though hundreds broke away to take part in a sing-along led by opposition leader Viktor Yushchenko.
"We want to sing. We are tired of political rallies," said Vadym Shkavro, 33, standing in line with his 2-year-old daughter, Lena, in his arms.
In neighboring Moldova, President Vladimir Voronin reduced the price of a loaf of bread by 5 percent to 23 cents for the day.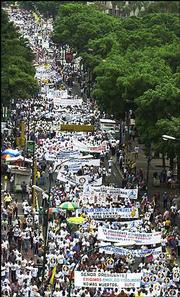 Some 8,000 German police deployed in cities kept violence at a lower level than on previous May Days. In Berlin, however, clashes broke out when groups of chanting and whistling youths, some wearing face masks, hurled cobblestones and bricks at police.
In the North Korean capital, Pyongyang, 600 workers from South and North Korea held a joint May Day celebration, expressing hopes for reunification of the divided Korean Peninsula.
Copyright 2018 The Associated Press. All rights reserved. This material may not be published, broadcast, rewritten or redistributed. We strive to uphold our values for every story published.