Louisville, Ky. — Stewart Elliott heard all the second-guessers: A first-time jockey can't handle the pressure of the Kentucky Derby.
Yeah, right.
Shrugging off the doubters and doing what he does best, Elliott stormed through the mud at Churchill Downs on Saturday to win aboard Smarty Jones.
"It's magnificent. It's unbelievable," Elliott said moments after his chestnut colt defeated Lion Heart by 23/4 lengths.
Elliott and John Servis became the first jockey-trainer combination to win in their first Kentucky Derby since 1979, when Ronnie Franklin rode and Bud Delp trained Spectacular Bid.
The naysayers discounted Elliott's experience because he rode at minor-league tracks like Philadelphia Park and Suffolk Downs. Still, he won more than 3,200 races in such places.
"I wasn't worried. I knew I had a good horse," he said. "I knew if things went well, we'd both do our jobs."
Did they ever.
Smarty Jones, who was 6-for-6 coming into the Derby, became the first undefeated horse to win since Seattle Slew in 1977. Slew went on to win the Triple Crown. Now Smarty Jones has a chance to match that feat.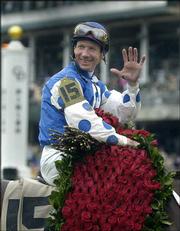 "Absolutely masterful ride," Servis said.
Elliott stayed cool as Lion Heart controlled the pace ahead of the 18-horse field. At the top of the stretch, with 140,054 soggy fans raising a ruckus, Elliott and Smarty Jones passed Lion Heart and raced uncontested to the wire.
"Of course, they all heard about him now, but he's always been an extremely talented rider," said Hall of Fame jockey Mike Smith, who was on Lion Heart.
There was a time when Servis asked Smarty Jones' owners, Roy and Pat Chapman, if they wanted to keep Elliott on the colt.
Servis endorsed the jockey, and the Chapmans agreed.
"I'm so happy for Mr. and Mrs. Chapman and John Servis for sticking with me and giving me this chance," Elliott said. "They could have rode anybody in the world they wanted to, and they gave me this opportunity to prove myself."
At 39, Elliott was in the biggest race of his life. But nerves didn't bother him.
Elliott had been to Churchill Downs once before, in the 1980s when he and a friend were driving from Florida to New England. His friend knew people at the track and wanted to visit.
Copyright 2018 The Associated Press. All rights reserved. This material may not be published, broadcast, rewritten or redistributed. We strive to uphold our values for every story published.