A coach once called Brian Jensen a bumblebee because of the former Kansas University distance runner's bulky build.
"Since bumblebees are big, people assume it's tougher for them to take off and fly," Jensen's wife, Michelle, said. "But Brian's not built like most other distance runners."
Michelle Jensen, like her husband, ran the 5,000 and 10,000 meters during her college career at Johnson County Community College. Normally, long-distance runners favor stamina over speed.
Thus what might have seemed like a silly nickname in the running world is appropriate in Brian Jensen's new sport of cycling. His mixture of endurance and explosion has allowed the 28-year-old to make an impact on the local scene.
"It's really two different worlds," Jensen said of running and racing. "It's quite a different feeling to be out there running on your own, compared to strategic maneuvers with teammates on a bike.
"It's not always the strongest person who will win in cycling, usually the smartest."
Jensen, who races for the Kansas City-based HRRC/Maclaren Racing, was equally adept in both areas Saturday when he took a commanding lead in the inaugural VeloTek Grand Prix at Clinton Lake.
Jensen had the top time the 2.5-kilometer prologue time trial and 1.1-mile loop criterium, helping him establish a overall mark of 1:10:30.52 -- nearly two minutes faster than his closest competitor.
The two-day event -- which also is a Lance Armstrong Junior Olympic Road Series race, used to develop junior riders within the USA cycling program -- concludes today at Perry Lake with a time-based stage race around a 28-mile loop surrounding the lake.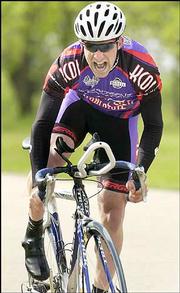 "I'm sitting pretty good right now," Jensen said. "But you never know if you're going to have mechanical problems. I'll definitely be driving on the defensive."
Jensen, who ran cross country at KU from 1998 to 2001, has been on the offensive since following his wife into the world of competitive cycling more than three years ago.
The three-time runner for the Danish World Championship team said he was determined to go as far as he could in his new activity, just like he did when he began running in the forests of his native Denmark as a youth.
"I ran everyday for eight years," Jensen said. "I think I have at least six good years left in this sport."
While his age works against him a bit in terms of making a professional team, Jensen has shown steady improvement while going from not having ridden to making it into cycling's highest Category 1 classification.
"There are quite a few people who cross over from running to cycling," said Jim Whittaker, Saturday's event promoter. "Some don't make it all. Others do. He's obviously shown he's made the transition quite effectively."
While Michelle Jensen says she's satisfied riding for fun, she insists her husband has no limits.
"I think he really thrives on the mental and physical toughness of the sport," she said. "In that way, it's very much like running, but also very different."
Copyright 2018 The Lawrence Journal-World. All rights reserved. This material may not be published, broadcast, rewritten or redistributed. We strive to uphold our values for every story published.