TEL AVIV — California Gov. Arnold Schwarzenegger opened a visit to the Middle East Saturday, announcing job-growth ventures with several Israeli companies and scheduling a surprise detour to Jordan after being criticized for snubbing Palestinians during his trip.
The celebrity governor's first foreign sojourn since taking office was anchored by a speech he was to give today at the site of a planned tolerance museum in Jerusalem.
The governor's father was a member of the Nazi party, but the actor-turned-politician has always sought to distance himself from that part of his Austrian background.
During one of his first events in Israel, he told a roomful of business executives at an evening reception that he will be a salesman for California economic interests.
"Jobs, jobs, jobs," he told members of the Israel Export and International Cooperation Institute.
He announced five agreements with Israeli companies to expand or create business in the state to help California's struggling economy. One deal with SANRAD, a high-tech firm that will move its world headquarters to Alameda, Calif., bringing a projected 300 jobs.
"They see we are coming back and they want to be on board," Schwarzenegger told the group.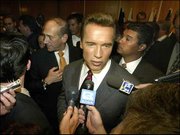 Copyright 2018 The Associated Press. All rights reserved. This material may not be published, broadcast, rewritten or redistributed. We strive to uphold our values for every story published.