DETROIT — Jeremy Bonderman learned the most important lesson for a young fastball pitcher -- don't throw so hard all the time.
"Now I know that I don't have to go after every batter with the hardest pitch I've got," he said. "Today, I was throwing sinkers and getting grounders. It was a good game."
Bonderman (3-1) allowed two runs in 72/3 innings, and the Detroit Tigers handed the Seattle Mariners their eighth loss in 10 games with a 4-2 victory Saturday.
Bonderman, who went 6-19 last season as a 20-year-old rookie, allowed six hits and didn't walk a batter, helping the Tigers to just their second win in six games.
"He gave us a different look than when we faced him last year," Mariners manager Bob Melvin said. "Last year, everything was 93-96 (mph), but today he was throwing stuff in the high 80s and getting some sink on the ball, and then humping it up when he needed it. He pitched very well."
Tigers catcher Brandon Inge said he had an easy day behind the plate.
"I just set up on the outside corner and let Jeremy do all the work," he said. "A major-league hitter can hit any fastball, so you have to confuse them. When he's throwing 88, then 85 on a slider, and then he comes in with one at 96, it looks like 150 to the batter. That's what he has learned since last season, and that's what makes him so tough."
Seattle ruined Bonderman's shutout when Jolbert Cabrera, subbing for injured second baseman Bret Boone, led off the eighth with an infield single, and John Olerud followed with an RBI double. Bonderman retired the next two batters, but Ichiro Suzuki drove in Olerud with an infield single to shortstop.
"I wasn't tired -- they just fouled off a lot of pitches in that inning," said Bonderman, who didn't win his third game last season until July 9.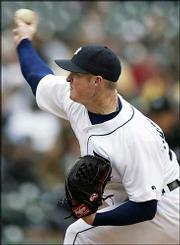 Danny Patterson relieved Bonderman and struck out pinch-hitter Edgar Martinez.
"I just put myself in a hole," Martinez said. "I didn't swing at a single strike -- I swung at three bad pitches."
Ugueth Urbina pitched the ninth for his second save in as many chances, ending Seattle's eight-game winning streak over Detroit.
Seattle starter Ryan Franklin (1-2) gave up four runs on eight hits and a walk in seven innings.
Boone was scratched from the original starting lineup because of back spasms. His status for the series finale today wasn't immediately known.
The Tigers took a 2-0 lead in the first inning on Rodriguez's second homer of the season. The play originally was ruled a double, but the umpires changed the call after a conference. Replays showed that the ball hit the top of the new left-center field fence, that is shorter and closer, bounced off the old wall and back onto the field.
"I just got the ball up a little," Franklin said. "If I keep that pitch down, it's a different story. "
Indians 3, Orioles 2, 13 innings
Cleveland -- Coco Crisp hit a one-out RBI single in the bottom of the 13th inning, giving Cleveland a victory over Baltimore. Matt Lawton singled off Mike DeJean to lead off the inning and moved to second on Alex Escobar's sacrifice. Lou Merloni was intentionally walked before Crisp, batting for the first time in the game, lined an 0-1 pitch to right field to score Lawton. Chad Durbin (2-2) pitched two scoreless innings for the win.
White Sox 4-6, Blue Jays 3-10
Chicago -- Frank Catalanotto tied an American League record with six hits, and Eric Hinske and Orlando Hudson homered as Toronto beat Chicago, 10-6, to earn a split of their doubleheader. Chicago won the opener, 4-3, on Joe Crede's sacrifice fly in the bottom of the 10th.
Catalanotto went a career-best 6-for-6 and fell one hit short of the major-league record for a nine-inning game, accomplished by Rennie Stennet on Sept. 16, 1975 for Pittsburgh. Shawn Green was the last player to have six hits in a nine-inning game. He did it in May 2002 as part of his four-homer game for the Los Angeles Dodgers.
Rangers 4-8, Red Sox 3-5
Arlington, Texas -- Pedro Martinez had his shortest outing of the season for Boston, giving up six runs in four innings, and Texas won, 8-5, to complete a sweep in the doubleheader matching division leaders.
In the first game, Texas broke a streak of 321/3 consecutive scoreless innings by Boston's bullpen with a three-run seventh to win, 4-3.
Angels 1, Twins 0
Minneapolis -- Chone Figgins hit an RBI single with two outs in the ninth inning, and spot starter Aaron Sele allowed two hits in five innings to lead Anaheim over Minnesota. Kevin Gregg gave up two hits over two innings, and Francisco Rodriguez (1-0) and Troy Percival pitched one inning each to complete the four-hitter.
Athletics 6, Devil Rays 5
St. Petersburg, Fla. -- Erubiel Durazo hit his second career grand slam with two outs in the ninth inning, and Oakland held on for a win over Tampa Bay. Durazo's bases-loaded shot off Trever Miller that made it 6-1 was his third homer in the past two games.
Copyright 2018 The Associated Press. All rights reserved. This material may not be published, broadcast, rewritten or redistributed. We strive to uphold our values for every story published.