Bill Self knows why Kansas University men's basketball fans were chanting "Wait 'til next year" as they filed out of Edward Jones Dome on Sunday in St. Louis.
Self's second KU team figures to be better than his first, which went 24-9 and reached the Elite Eight.
"I think expectations should be high," Self said of the 2004-05 Jayhawk squad which will include seniors Wayne Simien, Keith Langford, Aaron Miles and Michael Lee.
"We need to add a couple pieces, whether that be guys we've already signed or somebody else who could possibly come in the future. No question we'll be very good next year as long as everything stays status quo."
Self will bring in three or four players next season -- he is waiting for 6-foot-5 Detroit guard Malik Hairston to pick either KU, UCLA, Michigan or Ohio State.
KU's three prep signees are: Russell Robinson, a 6-foot-2 guard from New York's Rice High (21 ppg); Sasha Kaun, a 6-10, 240 forward from Florida Air Academy in Melbourne, Fla. (15.3 ppg, 12.6 rpg); and Darnell Jackson, a 6-9, 235-pound forward from Midwest City (Okla.) High (12.0 ppg, 10.0 rpg).
"I think all three have a chance to play right away," Self said. "It depends how quickly they pick stuff up and mature and adjust to being in college. Sasha has huge hands and can be an impact guy. Darnell has a great body. He looks like a 21-year-old man already. He has to learn how to play a bit. Russell is a winner -- another perimeter ballhandler and shooter."
Robinson can dribble effectively, yet also stick the deep three.
"Russell can certainly become a backup point guard. Hopefully we get to the point our positions on the perimeter are interchangeable, where we don't care who brings it up and who is on the wing," Self said. "It's a goal of ours to get to that point. He adds to the versatility of the backcourt."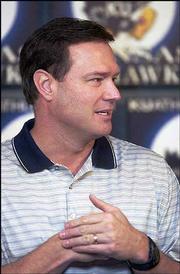 Self would like to cut down on Miles' minutes -- he averaged 34 per game.
"I would love next year to take the ball out of Aaron's hands some, to not wear him down like we did this year," Self said. "To do that, our other guys have to improve their ballhandling ability and playmaking ability."
Self -- in accordance with NCAA rules -- can't talk about what Hairston might bring to the table in the backcourt. But KU definitely wants to sign the McDonald's All-American.
"I think there's a chance we could sign somebody," Self said. "Obviously, we don't have a commitment now. There's some things we have to talk to our present players about, have meetings that will take place after the Final Four."
Those discussions could include current players heading elsewhere -- Self said he had heard rumors of possible transfers.
"I don't anticipate going into it hoping or believing we're not going to have our full complement of players next year. I know we're recruiting to prepare in case that happens, but we don't know that to be the case.
"You guys (media) have asked me a couple times, is there any truth to this or that?" Self said. "I've heard a few things, but nobody has talked to me about any of that stuff yet.
"I'll get with the guys next week and have a better feel. I know I'd like to coach everybody here. I also know in competitive times guys go to school and want to play. Different factors come up in their career. We'll visit and make sure they feel comfortable about the direction their future is heading here."
The transfer rumors have centered mostly on guys who haven't logged a lot of minutes, including sophomore guard Jeff Hawkins, sophomore forward Moulaye Niang and freshman guards Omar Wilkes and Jeremy Case.
The Journal-World checked in with several players about their plans during the NCAA Tournament.
"I love it here. I'm staying at KU," Hawkins said, laughing at rumors he might be headed to UMKC.
"I'm coming back," Wilkes said. "Having another year under my belt will aid me greatly. I've learned a lot that will help me in the future."
Asked about associate head coach Norm Roberts possibly landing a head-coaching job, Wilkes added, "I would give him the highest recommendation for any head-coaching job. I just hope he's here for my four years."
Case told the Daily Oklahoman he "loves it here." His dad, Win, coach at Oklahoma City U., said Jeremy would be at KU four seasons.
Niang struggled by not receiving much playing time.
"It's tough, but coach's decision. He puts in whoever he thinks helps the team. I can't be mad at him. I have to prove he can trust me in the games," Niang said.
"I'll keep working on my game. I'll be here all summer to work out and get stronger."
Asked whether he would stay next season, he said: "I haven't decided on that right now. Whatever happens, happens. I'm not thinking about that all. Whatever happens, happens."
Nobody will leave KU, Self said, unless it's what the players wanted.
"I am a big believer guys come to Kansas and want to be at Kansas," he said. "You respect the fact they want to be here. We should do everything we can to develop those guys, give them the best chance to live out those dreams. There could be outside factors coaches don't even know about that may get guys thinking, 'Is this the best place for me?' Certainly I respect that.
"It all will sort itself out during the offseason."
Of his first season, the coach said: "It's been an interesting year, probably not the most fun year I've ever had by any means. Every place I've been, the first year is the toughest getting acclimated and getting things in place. It's also been one of the most rewarding years we've had because we did fight, and we did come back from some very average performances and spin negatives into positives.
"I think we did grow as a program. You lose two lottery picks ... even Syracuse didn't lose two, they lost one who was pretty good. You lose two and you are back in overtime to go to the Final Four ... that says something for your players and program, too."
Copyright 2018 The Lawrence Journal-World. All rights reserved. This material may not be published, broadcast, rewritten or redistributed. We strive to uphold our values for every story published.