Hillcrest School teacher Betty Sisson is used to showing students what to do and then watching them closely.
The tables turned on her Tuesday evening, however, as she worked behind the counter at McDonald's, 1309 W. Sixth St.
McDonald's employee Matthew Smith, 18, was working with Sisson, and watching every move as she took meal payments from customers and gave back change.
"She's actually doing pretty good," Smith said.
"He's probably afraid I'll get him in trouble," Sisson said with a laugh, adding she had never worked before at a McDonald's or any similar business.
Sisson was among six Hillcrest teachers working during a four-hour shift at the restaurant to raise money for their school. Teachers from South Junior High School worked at the McDonald's at 901 W. 23rd St., and teachers from Eudora's Nottingham elementary school worked at the McDonald's at 3241 Iowa.
The teachers were participating in a program McDonald's calls "McTeacher's Night."
McDonald's agreed to donate 20 percent of its sales from a 4 p.m. to 8 p.m. shift worked by the teachers. The amount the teachers earned for their schools was not available Tuesday night.
The Lawrence McDonald's restaurants came up with McTeacher's Night promotion a few years ago to help schools.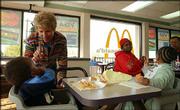 "McDonald's has a rich heritage and tradition of being a good community partner and neighbor," said Marilyn Dobski, who owns Lawrence McDonald's restaurants with her husband, Tom Dobski.
Marilyn Dobski said she was excited to have Hillcrest teachers working for the first time.
In addition to working behind the counter, the teachers worked in the drive-through window taking orders and greeting customers at the door.
"Order a lot of food," said Katie Becker, a Hillcrest sixth-grade teacher, as she welcomed the customers. "They told me I'm the schmoozer."
Megan Haase-Divine, a Hillcrest third-grader, said she wasn't afraid to eat at McDonald's because teachers were working there but said it was "strange seeing them here."
Cassidy Farwell, another Hillcrest third-grader, gave the teachers a passing grade for their work.
"I think they are doing a good job for not knowing much about what they are doing," she said.
Copyright 2018 The Lawrence Journal-World. All rights reserved. This material may not be published, broadcast, rewritten or redistributed. We strive to uphold our values for every story published.