While no team -- boys or girls -- went to the state tournament this year, many strong seasons were celebrated on the area's high school basketball courts.
The Mill Valley boys went 17-5. So did the Baldwin and Tonganoxie girls teams. Eudora's girls finished 16-7. Ottawa's boys were 16-6.
All were respectable seasons that ended a game or two too early.
But the cream of the area crop was De Soto High.
This season, the Wildcat girls went 19-3, and from Dec. 19 to Feb. 24 didn't lose a game.
The highlights were plentiful for De Soto, most notably a Louisburg tournament title in January and being crowned co-champion of the Kaw Valley League, the first league title for De Soto in 20 years.
Thus, De Soto coach Dwight Spencer has earned the Journal-World's area coach-of-the-year honor. Even though the Wildcats fell short of the state tournament, everything else seemed to go right for them this year.
"I thought we could be pretty good," Spencer said. "I'm not sure that I had any type of number in mind."
It all seemed to line up oh-so-good once a sharp-shooting guard named Amy Petty transferred to De Soto from Buhler. Just like that, De Soto had the inside-outside scoring combination that gave other teams fits.
"She brought a great feel for the game," Spencer said of Petty. "She was another kid that completely understood the game really well."
Petty, a second-team J-W All-Area pick, averaged 13.9 points per game this season, mainly staying out on the perimeter. Complementing her was first-team All-Area pick Allie Heinen, a 5-foot-11 senior forward who averaged a double-double -- 15.6 points and 10.1 rebounds per game.
Once the Wildcats came together, they were hard to beat.
Perennial pest Santa Fe Trail topped De Soto, 39-35, in the team's third game of the season, but that was the last time De Soto lost for a long time. The Wildcats won 15 straight after the SFT defeat, including victories over Tonganoxie, Spring Hill and, perhaps the sweetest of the 15, a 39-34 victory over Santa Fe Trail on Feb. 3. It was the first time De Soto had topped the Chargers in seven years.
De Soto was sitting pretty at 17-1 before Eudora finally ended the long streak. De Soto grabbed two more victories before being ousted in the Class 4A sub-state semifinals by Kansas City Ward, a team that eventually went to state.
Regardless, it was a season to remember for the Wildcats. Heinen graduates, but several key contributors will be back next season.
"I think we have a chance at being very competitive next year," Spencer said. "There's not going to be games we should get blown out of. The big key is out how much our players get in the gym this summer."
All-area girls
Emily Brown, Baldwin
First team
Name, school
Yr.
Ht
Stats
Emily Brown, Baldwin
Sr.
6-2
15.0 ppg, 9.0 rpg, 3.3 bpg
Allie Heinen, De Soto
Sr.
5-11
15.6 ppg, 10.1 rpg, 2.8 spg
Lauren Kracl, Eudora
Sr.
6-0
24.0 ppg, 13.0 rpg, 3.8 bpg
Addie Heim, Tonganoxie
Jr.
5-10
13.2 ppg, 9.5 rpg
Megan Ramsey, Ottawa
So.
5-9
15.0 ppg, 3.3 rpg, 1.0 spg
Second team
Kendra Corley, Mill Valley
Jr.
5-10
14.2 ppg, 7.0 rpg
Kari Garrison, Baldwin
Sr.
5-7
13.0 ppg, 4.2 rpg, 3.1 apg
Amy Petty, De Soto
Jr.
5-7
13.9 ppg, 4.4 rpg, 1.5 apg
Lindsay Boss, Santa Fe Trail
Jr.
5-4
14.0 ppg, 5.0 apg, 4.0 spg
Ali Pistora, Tonganoxie
Fr.
6-1
10.2 ppg, 7.1 rpg
Third team
Jessica Layden, Oskaloosa
Jr.
5-9
8.0 ppg, 9.0 rpg
Jamie Lawrenz, Baldwin
Sr.
5-8
6.5 ppg, 7.2 rpg
Kayla Moyer, Eudora
Jr.
5-5
7.0 ppg, 3.0 spg, 2.6 apg
Megan Reed, Oskaloosa
So.
5-9
11.0 ppg, 8.5 rpg
Kelsie Studley, Ottawa
Jr.
6-0
9.2 ppg, 7.2 rpg
As one of Baldwin's best-ever athletes, Brown secured another All-Area selection with relative ease. As a senior, Brown averaged 15.0 points, 9.0 rebounds and 3.3 blocks per game for the Bulldogs, who finished another strong year with a 17-5 record.
Brown's inside presence -- she stands 6-foot-2 -- caused fits for opposing teams, and her shot selection was just as impressive. Not only was Brown a 50-percent shooter from the field, which includes nine three-pointers she drained, but Brown assured opponents that hacking her was not the way to go. She hit 70 percent of her free throws.
Brown is a four-time All-Frontier League selection and a repeat All-Area pick.
Addie Heim, Tonganoxie
It was a turnaround year for Tonganoxie's girls basketball team, and Heim was front-and-center in the success.
As part one of Tonganoxie's dangerous pair of post players -- Ali Pistora was the other half -- Heim led the Chieftains with 13.2 points and 9.5 rebounds per game and was an instrumental part of Tonganoxie's 17-5 season.
At 5-foot-10, Heim was tall enough to be an effective post player. She wasn't a typical inside player, though. Heim had the touch to step away and shoot from outside the paint and could handle the ball as well as most guards.
Heim, a junior, locked J-W All-Area honors in her second sport this year. She also was an All-Area volleyball player this fall.
Allie Heinen, De Soto
As De Soto's top returning player, Heinen was the key if De Soto was going to enjoy success it hadn't seen in a long time.
Judging by De Soto's 19-3 record, it appears Heinen did a pretty good job.
As a senior, Heinen averaged 15.6 points and 10.1 rebounds per game. She joins Eudora's Lauren Kracl as the only players to average a double-double in the area this season.
Standing 5-11, Heinen brought a variety of post moves, tremendous hands and a sweet touch to De Soto's inside game. While she earned All-Area honors with her inside game, Heinen wasn't afraid to drift outside and knock down a three-pointer every once in a while. That made her even tougher to defend.
Lauren Kracl, Eudora
One area coach summed Kracl up best, simply saying that she was "the BEST player in the area."
Few could argue.
Kracl enjoyed a senior season that will be hard to match. Starting with her 35-point performance in Eudora's season-opening victory against Pleasant Ridge, to her 21-point, 17-rebound effort in her final high school game, Kracl was all dominance, all the time.
She finished with an area-best 24.0 points and 13.0 rebounds per game for the Cardinals, who finished 16-7 and one game shy of the Class 4A state tournament. She was a four-time All-Frontier League pick and a three-time J-W All-Area selection.
Megan Ramsey, Ottawa
Though only a sophomore, Ramsey already has established herself among the most dangerous outside shooters in the area, and she gave the Cyclones an on-court leader after losing standout Liz Burks to graduation.
In leading the always-tough Cyclones, Ramsey averaged 15.0 points per game and shot 46 percent (63-for-136) from three-point range. A three-sport standout, Ramsey also grabbed 3.3 rebounds per game despite being a perimeter player. Behind her court presence, Ottawa raced to a 9-2 start before finishing the season 13-8.
All-area boys
Lee Baldwin, Ottawa
First team
Name, school
Yr.
Ht
Stats
Lee Baldwin, Ottawa
Sr.
6-1
21.9 ppg, 5.5 rpg, 4.0 apg
Danny Brown, De Soto
Jr.
6-4
18.0 ppg, 5.0 rpg, 4.0 apg
Jacob Eaton, Mill Valley
Sr.
6-4
18.2 ppg, 5.2 rpg, 64% FG
Andy Hannon, Baldwin
Sr.
6-0
23.6 ppg, 4.2 rpg, 3.5 spg
Jake Heston, Oskaloosa
Sr.
6-2
17.0 ppg, 8.5 rpg, 54% FG
Second team
Clint Bones, Ottawa
Sr.
6-5
14.2 ppg, 8.9 rpg
Chris Gabriel, Eudora
Sr.
6-3
12.6 ppg, 6.1 rpg
Isaac Gardner, McLouth
Sr.
5-9
19.1 ppg, 3.1 spg
Spencer Kennedy, P-L
Sr.
6-6
15.0 ppg, 9.0 rpg
David Woods, Mill Valley
Jr.
5-8
11.0 ppg, 3.2 apg, 2.5 rpg
Third team
Jake Carter, Santa Fe Trail
So.
6-6
12.3 ppg, 6.3 rpg
Shane Howard, Tonganoxie
Sr.
6-0
11.9 ppg, 3.9 rpg
Kirk Rodell, Tonganoxie
Jr.
6-0
12.0 ppg, 4.3 rpg
Brandon Smith, Mill Valley
Sr.
6-1
9.0 ppg, 7.0 rpg, 5.6 apg
Jeremy Wright, Baldwin
So.
5-10
11.0 ppg, 3.6 rpg
One year after advancing to the Class 4A state tournament, Ottawa kept its strong presence in Kansas high school hoops this year thanks in large part to Baldwin's presence on the floor. A repeat All-Area selection, Baldwin averaged 21.9 points and 5.5 rebounds per game for the Cyclones, who finished the season 16-6 and one game shy of the Class 5A state tournament.
Baldwin, a consistent scorer who posted double figures in points in all 22 of Ottawa's games this year, scored most of his buckets from the perimeter, hitting 49 of 135 three-point attempts. But perhaps even more crucial was the fact that Baldwin was automatic at the free-throw line, hitting 86 percent (109-127) of his charities.
Danny Brown, De Soto
As the Wildcats and coach Jason Generally continue turning around a struggling program, Brown emerged as one of the area's most exciting and complete talents. The lone non-senior on the All-Area first team, Brown catapulted De Soto's five-win improvement from 2003 to 2004. The 6-4 slasher averaged 18.0 points per game and added 5.0 rebounds, 4.0 assists and 1.5 steals per contest.
Whether it was draining another three (Generally lauds him for his "unlimited range") or throwing down a vicious dunk, nothing Brown did was quiet. De Soto finished the season 10-12.
Jacob Eaton, Mill Valley
Standing just 6-4, Eaton was often undersized playing against Class 5A big men, but so what? Many of the 6-7, 6-8 centers had no chance anyway.
As Mill Valley coach Justin Bogart said, "We would've liked for Jacob to be 6-6, but I don't think it would've made a lot of difference."
Probably not. It's hard to improve on 18.2 points and 5.2 rebounds per game. Eaton did just that, shooting an amazing 64 percent from the field for the 17-5 Jaguars. Mill Valley implemented a successful high-low system recently made popular in these parts by Kansas University coach Bill Self.
Andy Hannon, Baldwin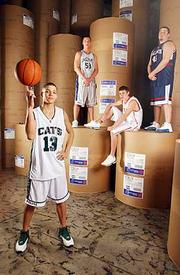 Missing half of the season because of a broken hand wasn't a good enough reason to keep Hannon off the All-Area team. When he was on the floor, he was as valuable as any player in the area.
Hannon returned just before sub-states began, and in his first game back, against Prairie View, Hannon dropped 36 points in a Baldwin victory. The Bulldogs won their first two games after Hannon's return, including a nine-point victory over rival Eudora.
For the season, Hannon led the area, averaging 23.6 points per game. He also averaged 4.2 rebounds and 3.5 steals per contest.
Hannon played six games after returning from injury and averaged 27.3 points per game.
Hannon is a repeat All-Area selection.
Jake Heston, Oskaloosa
Perhaps nobody works with what he has better than Jake Heston, who possesses size that few can match.
Standing a stocky 6-foot-2, Heston has the physical tools that allow him to have his way in the paint, but that, of course, can only get him so far. Heston is an All-Area selection because he also has great hands, an uncanny knack for finishing and an occasional flair to take control of a basketball game. Need proof? Against Pleasant Ridge on Feb. 17, Heston dropped 36 points and pulled down 17 rebounds in a 77-71 Oskaloosa victory.
Three days later, he scored 30 points and grabbed nine boards against Highland, another Bears win.
Copyright 2017 The Lawrence Journal-World. All rights reserved. This material may not be published, broadcast, rewritten or redistributed. We strive to uphold our values for every story published.