Believe it or not, Jeff and Shawna Huffman are anxiously awaiting the first batch of bills in their new home.
That's because the house was constructed using insulated concrete, a method said to be more energy efficient.
"We're thrilled to see what kind of savings we can have after going through a hot summer or cold winter," Shawna Huffman said.
The Huffmans purchased the house -- their first -- this month from Tenants to Homeowners Inc., a Lawrence nonprofit agency that builds homes and sells them at cost to first-time home buyers. The Huffman's new home, 805 Locust St., is special because it's the first time the agency used concrete blocks for construction.
Rebecca Buford, associate director of the agency, said Tenants to Homeowners, 2518 Ridge Court, made the switch from traditional lumber to concrete blocks because it wanted to offer new homeowners housing that was both affordable and energy efficient.
"Older houses are not sealed, and owners are paying ridiculous utility bills," she said. "Insulated concrete forms made a lot of sense to us."
Buford said concrete homes also offer a safety advantage to homeowners, especially in Kansas. The four-inch concrete walls should hold up against an F-4 tornado. And the thickness of the walls filters out noise, making it a quieter living environment.
"We try to build very practical, livable space for families," Buford said. "They don't have a lot of bells and whistles, but they are high-quality construction."
Jeff Huffman is impressed with the home's ability to withstand bugs and fire.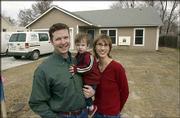 "I think all homes should be required to be built that well," he said.
Tenants to Homeowners is not the only nonprofit organization using the concrete blocks for home construction.
Kansas City Habitat for Humanity switched from using frame construction to concrete blocks in 2002, said Fred Burns, construction manager. That agency has since built 10 concrete houses. Burns said he had noticed a few differences since they made the switch.
"The main thing is they have no drafts," he said. "There are no places where air is going to be filtering through."
Habitat has not compared the energy efficiency of concrete homes with traditionally wooden homes. Officials are in the process of building a traditionally framed house and a concrete house of the same floor plan and facing the same direction, receiving similar sunlight, to provide a fair comparison.
Tenants to Homeowners also will conduct its own research. Officials with the Lawrence agency will compare the Huffman's house to a similar three-bedroom woodframe home.
"We want to show the community it can be done affordably," Buford said.
Copyright 2018 The Lawrence Journal-World. All rights reserved. This material may not be published, broadcast, rewritten or redistributed. We strive to uphold our values for every story published.