Prior to introducing Bonnie Henrickson as Kansas University's new women's basketball coach, KU athletic director Lew Perkins committed a slip-of-the-tongue that perhaps foreshadowed the hire.
Perkins made note of the men's basketball team's run to the Elite Eight, saying, "We're all really proud of the Huskies and the job coach Self has done."
Obviously, Perkins meant Bill Self's Jayhawks, rather than the Connecticut Huskies, but it's understandable if he had UConn on his mind the past few days. After all, one of the first people Perkins turned to for advice when searching for a new women's coach was four-time Naismith National Coach of the Year Geno Auriemma of Connecticut.
Auriemma's Huskies have set the standard for excellence in women's basketball after winning three of the last four national championships, and Perkins -- a former Connecticut AD -- wants similar success at Kansas.
Perkins said he, Auriemma and a slew of other elite coaches from across the country all endorsed Henrickson, the former Virginia Tech coach who took the Hokies to five NCAA Tournaments in seven years, as the right person to breathe fresh air into KU's stagnant program. Tech assistants Karen Lange, Katie O'Connor, Kelly Kramer and director of basketball operations Trena Anderson will join Henrickson at KU.
"I called, as you can all imagine, Geno Auriemma, Pat Summitt (Tennessee), Marsha Sharp (Texas Tech), Jody Conradt (Texas), Jim Foster (Ohio State)," Perkins said. "I called Ann Meyers Drysdale (WNBA TV announcer). I called everyone, people I had confidence and trust in, and I asked their opinions of who I should be talking to.
"There wasn't one person who didn't have Bonnie at (No.) 1 or 2 on their list."
Perkins heeded their advice, and Monday he introduced Henrickson as the fifth women's basketball coach in KU history.
Henrickson received a five-year contract with a base salary of $130,000 per year. Incentives from apparel and media contracts, as well as an annuity, will boost her total package to about $530,000 per year. Perkins said Henrickson's deal ranks on the "low end of the upper" tier of Big 12 Conference coaches, so she is about the fourth- or fifth-highest paid coach.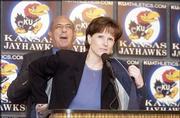 Former KU coach Marian Washington earned about $215,000 per year.
In addition, KU will pay $523,000 to Virginia Tech to buy out the three years remaining on Henrickson's contract. Perkins said that was no problem.
"We're comfortable with that," he said. "We feel that she's important enough to be in our program. They felt that it was important enough to put a high number to keep her, so that says a lot about her."
The Roanoke (Va.) Times and World News reported Monday that Henrickson told Virginia Tech athletic director Jim Weaver her assistants would be paid $90,000 apiece.
KU Chancellor Robert Hemenway endorsed the hiring and massive salary hike, too.
"Women's athletics are going to be important to KU," he said, "very much so because they're important to the Big 12 and they're important to the university."
Henrickson wasted no time hitting the recruiting trail to begin rebuilding a program that has posted four straight losing seasons and a 10-54 conference record during that span. She was hired late Thursday night and was recruiting the next day.
"I looked like I was from the Oakland Raiders," Henrickson said, chuckling as she described her first outing as KU coach before she owned any crimson and blue gear. "It was the only thing I had in my house that wasn't maroon or orange. At the event I was at, the janitor came up to me and said, 'Ma'am, what school are you from?' I said, 'The University of Kansas,' and he looked at me kind of funny.
"It was probably not 24 hours later, so it has been a little bit of a whirlwind."
Despite being weathered and weary from six flights and having hardly a minute of sleep during the past five days, Henrickson laughed off the lack of shut-eye and sounded confident and focused Monday when she formally was introduced as the Jayhawks' new coach.
"We are realistic about the growth that is needed for us to compete at the highest level in (the Big 12), which certainly is the best women's basketball conference in the country," Henrickson said.
She vowed to recruit talented players -- as many as possible from Kansas -- and promised they would be good citizens and solid students.
"If we can win a national championship with 15 players from the state of Kansas, we will do that," she said. "If that's not possible, we will go regional. If that's not possible, we will go national. We have a national reputation at the University of Kansas."
Henrickson said her first recruiting goal was to address immediate needs. In regard to the number of available scholarships for next year, she said "that's what we're still addressing." She and Perkins both said no current players had come to them saying they planned to depart the program.
As for Henrickson -- who previously garnered interest from Minnesota, Vanderbilt, Ohio State and Florida -- she said she never had any intention of leaving Virginia Tech, but she received an offer she couldn't refuse.
"For me, quite honestly, it's Lew Perkins," she said. "It's his vision, his commitment, the opportunity for resources to compete at the highest level. I wasn't looking to make a move ... but it felt right."
"I can't tell you how excited and realistic we are about how this group will work tirelessly to bring this program back to national prominence."
Copyright 2018 The Lawrence Journal-World. All rights reserved. This material may not be published, broadcast, rewritten or redistributed. We strive to uphold our values for every story published.