Tokyo — In a land far from home, where fans will watch on TV in the wee hours of the morning, the New York Yankees start the process of atonement.
They've been hounded by failure for five months, their roster revamped by an owner who deemed it a disaster to fall two wins shy of a World Series title.
Now they get to put their new-look team on the field in games that count, the richest baseball team ever assembled, a glitzy collection of stars.
The Yankees open the major-league season today against the Tampa Bay Devil Rays. Bleacher creatures in the Bronx will awaken for the game, which starts at 5:07 a.m. EST.
And in Florida, owner George Steinbrenner will be following his pricey pinstriped players -- wearing their home uniforms even though they are the visiting team.
"I'd like to show the fans in Japan, when Mr. Steinbrenner spends that kind of money, he wants results," manager Joe Torre said Monday.
New York opens with a payroll of $182.8 million, according to a survey of its contracts by the Associated Press. That's up from $169.6 million at the end of last year.
Tampa Bay starts at $29.2 million. Factor in the $7 million St. Louis is paying for Tino Martinez's $7.5 million salary, and the Devil Rays spend the least in baseball.
But starting today, the figures that matter are wins, not dollars.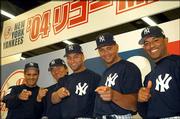 "You kind of get spoiled around here real quick," new Yankees third baseman Alex Rodriguez said. "Obviously, I haven't been exposed to this type of an environment."
Who has?
Nine of the 10 players in New York's starting lineup are former All-Stars, combining for 43 All-Star appearances. Second baseman Enrique Wilson is the lone exception.
Tampa Bay's lineup has two All-Star appearances, both by Martinez, when he played for other teams.
And New York's lineup doesn't even include Bernie Williams, in Tampa recovering from an appendectomy Feb. 26.
Since Florida beat the Yankees 2-0 to win Game 6 of the World Series, Andy Pettitte and Roger Clemens signed with Houston, while David Wells defected to San Diego. New York traded Alfonso Soriano, Nick Johnson and Jeff Weaver, and it released Aaron Boone after he busted a knee.
Their replacements?
Rodriguez, the reigning AL MVP, is at the top of the list, moving over from shortstop so as not to disrupt Derek Jeter, starting his first full season as Yankees' captain.
Kevin Brown and Javier Vazquez were acquired to fill holes in the starting rotation, and Paul Quantrill and Tom Gordon were signed to solidify a bullpen that added Gabe White and Felix Heredia late last season. Steinbrenner personally negotiated deals with outfielders Gary Sheffield and Kenny Lofton.
Torre looks at his batters and is confident.
"Offensively we're better, and our bullpen is better," he said. "We're not as deep in the starting rotation."
Just 12 players remain from last year's opening-day roster. And the Yankees didn't exactly struggle last year, bursting to a 20-5 start and finally shaking off the Red Sox in September. New York finished 101-61, the first time they reached 100 wins in consecutive seasons since the World Series championship teams of 1977-78.
But they've never won 100 three years in a row, and Boston improved by adding pitchers Curt Schilling and Keith Foulke.
The Yankees do have the biggest difference in baseball. When Metallica's "Enter Sandman" plays on the public-address system, it means closer Mariano Rivera is coming in.
Which means a New York win is usually moments away.
"With all due respect to the players that they've added, I think the guy that tilts the field for the Yankees is Rivera," Toronto manager Carlos Tosca said.
Torre, on the verge of getting a two-year contract extension through 2006, knows that Steinbrenner doesn't want any excuses.
"When you put this uniform on," the manager said, "you better win the world championship.
Copyright 2018 The Associated Press. All rights reserved. This material may not be published, broadcast, rewritten or redistributed. We strive to uphold our values for every story published.