Kansas University junior Keith Langford said he would have surgery to repair torn cartilage in his right knee "as soon as possible. It's bothered me the last month and a half. I'll take 2 1/2 to 3 months off. I now can focus on getting my knee right."
Jeff Graves also will have surgery to repair torn cartilage in a knee.
Meanwhile, J.R. Giddens will have his injured left foot put in a cast for five to six weeks, and Wayne Simien will rest his groin for a similar period of time.
"These guys have been hurt. We'll shut four of them down five to six weeks," KU coach Bill Self said.
He said there still was a possibility Giddens could have surgery on his foot after further evaluation.
Of Simien, who has had groin woes all year, Self said: "People don't know how hurt Wayne is. He spends two or three hours in the training room every day. The trainer told me today he didn't feel as good when he was stretching as he has. In my mind, I was saying, 'Man, if we could hang in there eight more days,' because Wayne will be shut down five or six weeks now."
¢
All-tourney team: Simien and Aaron Miles made the all-tournament team with Georgia Tech's Clarence Moore, Nevada's Kirk Snyder and Tech's Jarrett Jack, the regional MVP.
¢
Self Final Four-less: Self has reached the Elite Eight three times, his Tulsa team losing to North Carolina in 2000 and Illinois falling to Arizona in 2001.
"It won't be easy," Self said of getting over the disappointment. "All three of them were a last possession. Fortunately for us, on the last possession this year we got a stop.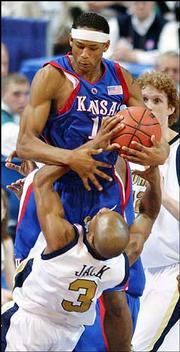 "It's tough. We've been close. It's amazing to me. In my years we've been to the Elite Eight we've been almost picture-perfect the first three games, and the fourth game we didn't quite play as well. A lot of teams don't play picture-perfect early and get by with a win. It's hard to get by with a win late in the tournament.
"I'd rather be in the game than not be in the game. I'd rather deal with disappointment than not being in the game."
Self kept his sense of humor.
"I'll have a pity party for a couple of days," he joked, "and after that get back to work. We've got work to do recruiting."
KU has filled its scholarship allotment for next year, bringing in Darnell Jackson, a power forward from Oklahoma City; Alexander Kaun, a center from Melbourne, Fla.; and Russell Robinson, a guard from New York. Malik Hairston, a guard from Detroit, is still considering KU. If he commits, a current Jayhawk would have to be taken off scholarship.
¢
Simien still staying: Simien was standing by statements he'd be back next year. "Yeah," he said. "Right now I want to reminisce with my teammates about the good year we had. I'm not thinking about much else."
¢
Jack on fire: Jack scored 29 points, had nine rebounds and six assists in 38 minutes.
He hit eight of 12 shots, missing his only two three-point tries and also canned 13 of 14 free throws.
"It's never often a guard goes in for 29 points and not score from the perimeter," Self said of the 6-foot-3 Jack, who provided mismatch problems for the 6-1 Miles. Michael Lee and Langford also guarded Jack.
"We didn't guard him. We didn't do a good job guarding him. Most of his stuff was in there tight. We didn't do a good job with ball screens. He certainly is a good player and deserves the credit, but we didn't do a good job. We let him get comfortable. He's a big guard, too. Size gave us a problem."
¢
Tough loss: Self regrets the fact KU lost in St. Louis, just a four- to five-hour drive from Lawrence.
"We probably had 20,000 fans here. Our fans are the best," Self said. "We are very disappointed. It's not often you get a chance to play a regional so close. We didn't take advantage of the opportunity."
¢
Stats, facts: KU's last overtime game in the NCAA Tournament was a win over DePaul in 2000. ... KU went 23-1 this year when scoring at least 70 points.
¢
Bad karma?: A banner in the arena read: "Hey Roy, how's the view from the beach?" referring to former KU coach Roy Williams, head coach at North Carolina.
Copyright 2018 The Lawrence Journal-World. All rights reserved. This material may not be published, broadcast, rewritten or redistributed. We strive to uphold our values for every story published.