If you're a regular reader of Behind the Lens, you probably have an interest in the changing technology of cameras, as well as how to take photographs. You may be considering switching from film to digital and wrestling with what kind of camera would best fit your needs.
To give you an idea of the differences in camera technology and their intended uses, I will compare two digitals that I use.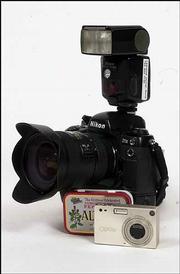 On the left, weighing in at 5 pounds, 5 ounces is a Nikon D1H, with the equivalent of a 25-50mm zoom lens and a Nikon flash. On the right, weighing in at 4 ounces is a Pentax Optio S4, with a retractable 35-105mm zoom lens and a built-in flash.
The S4 actually fits inside the Altoids can behind the camera. The Nikon is the camera used by the staff at the Journal-World. The Pentax is my personal, pocketable, point 'n' shoot. Pretty cool.
In a head-to-head match, the Nikon would pin the Pentax most of the time. But depending on your needs there are advantages and disadvantages to both cameras that may affect your choice.
The professional-caliber Nikon will accept interchangeable lenses, has a high-quality metal body to withstand heavy use, can fire up to three frames a second -- and when you wear it around your neck, everyone knows you're a photographer.
It also costs 10 times as much as the Pentax, is heavy to hold and carry for long periods of time -- and when you wear it around your neck, it hurts. And everyone knows you're a photographer.
With the Optio S4, you can carry it in your pocket, it can record motion video at 15 frames per second with sound, and it has a voice-only recording mode and a super macro mode that focuses down to 2.4 inches. But it is more susceptible to damage, it has a slight delay in firing the shutter, the flash is not very powerful and the image quality, while good enough for 8-by-10 prints, is not as good as the Nikon.
Both cameras serve their purpose for me. And while I could use the Pentax for some newspaper assignments, there's no way I can fit my Nikon in the Altoids can.
My real problem now is figuring out where to put all the loose mints.
-- "Behind the Lens" is an ongoing weekly series that features an image selected by the Journal-World photo staff that previously ran in the newspaper or online. Wondering how a certain picture was created? Nominate it for "Behind the Lens" by contacting chief photographer Mike Yoder at 832-7141 or myoder@ljworld.com.
Copyright 2018 The Lawrence Journal-World. All rights reserved. This material may not be published, broadcast, rewritten or redistributed. We strive to uphold our values for every story published.