Kansas City, Mo. — A breakthrough by promising young pitchers, a healthy Juan Gonzalez and one or two lucky bounces could halt Kansas City's 19-year postseason drought.
The Royals, in Tony Pena's second full season at the helm, also could melt right back into the small-market pack and return to their familiar losing ways.
It's a team brimming with potential. It's a team fraught with potential problems.
Thanks to Pena, last season's AL manager of the year, one thing the Royals possess is a positive attitude. Pena wouldn't have it any other way; everybody now understands it wasn't just false bravado he fed his club last year.
He told them to believe they could win, and they won. A sudden 21-game turnaround made the 100-game losers of 2002 one of the feel-good stories of 2003, and they competed into late September in the weak AL Central.
It was the first time meaningful September games were staged at Kauffman Stadium in a decade.
And now their energetic, positive-thinking skipper is delivering a different message to a beefed-up bunch that has good reason to expect even bigger things in 2004.
"Last year we came in to create belief," Pena said. "This year we came in to prepare to win. That's what we are doing. They believe in themselves now. They believe they can win."
Nobody was more active in the offseason than Royals' GM Allard Baird. He signed pitching depth in Scott Sullivan, revamped the catching by bringing in veterans Kelly Stinnett and five-time All-Star Benito Santiago and added versatility and depth with the acquisition of infielder Tony Graffanino.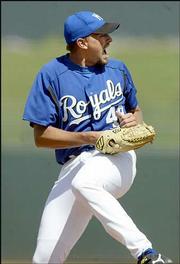 Producing the biggest headlines was his signing of Gonzalez -- to a one-year contract.
The last time the moody, powerfully built Gonzalez found himself driving for a new high-dollar contract was in 2001 with Cleveland. He hit .325 with 35 home runs and 140s RBIs.
But after being rewarded with a megabuck contract in Texas, the two-time MVP limped around and missed 172 games during two disappointing, injury-marred seasons.
Now he's 34 and in Kansas City with another free-agent pot of gold awaiting if he can put together another monster season.
His buddy, center fielder Carlos Beltran, also is working on a one-year contract and eying a lucrative free-agency splash in 2005.
2003: 83-79, 3rd place.Manager: Tony Pena (third season).He's Here: OF Juan Gonzalez, C Kelly Stinnett, C Benito Santiago, SS Tony Graffanino, OF Byron Gettis, OF Matt Stairs, RHP Scott Sullivan.He's Outta Here: RF Raul Ibanez, C Brent Mayne, C Mike DiFelice, RHP Jose Lima, OF Michael Tucker, OF Rondell White, LHP Graeme Lloyd.Projected Lineup: SS Angel Berroa (.287, 17, 73), CF Carlos Beltran (.307, 26, 100, 102 runs, 41 SBs), DH Mike Sweeney (.293, 16, 83), RF Juan Gonzalez, (.294, 24, 70 for Texas), 3B Joe Randa, (.291, 16, 72), LF Aaron Guiel (.277, 15, 52), 1B Ken Harvey (.266, 13, 64), C Benito Santiago (.279, 11, 56 for San Francisco), 2B Desi Relaford (.254, 8, 59).Rotation: LH Brian Anderson (5-1, 3.99), LH Darrell May (10-8, 3.77), LH Jeremy Affeldt (7-6, 3.93), RHP Kevin Appier (7-7, 5.93), LH Jimmy Gobble (4-5, 4.61).Key Relievers: RH Mike MacDougal (3-5, 4.08, 27 saves), RH Jason Grimsley (2-6, 5.16), RH Curtis Leskanic, (1-0, 1.73), RH D.J. Carrasco (6-5, 4.82), RH Scott Sullivan (6-0, 3.77).Hot Spot: Fences in Kauffman Stadium were moved back 10 feet, but the team record for home runs in a season -- a paltry 36 by Steve Balboni -- could still be in danger if 34-year-old Juan Gonzalez remains healthy. Prospect of being a free agent in 2005 should keep him motivated.Bottom Line: This could be Royals' best club since the 1985 World Series champs -- which was also the last time Kansas City printed a postseason ticket. Positive-thinking Tony Pena, AL Manager of the Year, seems to be the perfect skipper for an intriguing mix of veterans and youngsters who seem to be blending a nice chemistry. There could be budding stars in Berroa, last season's AL Rookie of the Year, Affeldt and MacDougal, who was perfect in his first 10 save opportunities last year but wilted in second half. The question mark is the rotation.
It's logical to expect a huge season from Beltran, who has remained largely under the national radar despite being just the sixth player in baseball history to post three consecutive seasons of 100 runs, 100 RBIs and 30 stolen bases.
"Juan is a guy who is misunderstood," said Beltran, who worked out almost daily with Gonzalez in Puerto Rico. "We've become good friends. He doesn't like to talk about himself, but he's a great guy. He helps all the young players. I think he's going to have a big season for the Royals."
Pena plans to give him plenty of rest. About five games a week will be the limit for "Juan Gone."
"Just looking at his history, it's easy to see that when he's broken down is when he played in too many games," he said. "I think we're deep enough now to let him rest a couple of games a week."
Batting leadoff will be AL Rookie of the Year shortstop Angel Berroa, who had a terrific spring training. Then the Royals' lineup gets scary-good: Beltran hits second, followed by four-time All-Star first baseman Mike Sweeney and Gonzalez.
One reason the Royals lost their lead last season and finished third in the Central behind Minnesota and Chicago was the back injury that limited Sweeney to 108 games.
"I feel great now," said Sweeney, who homered in three consecutive spring games. "No problems at all. I can't wait to get going. This is far and away the best team I ever played on."
But what of the pitching? The four starters all are lefties -- Darrell May, Brian Anderson, Jeremy Affeldt and rookie Jimmy Gobble.
With a week to go in spring training, Pena still was trying to compile his staff -- which could mean no one had looked impressive.
Closer Mike MacDougal, who was 10-for-10 at one point in save chances a year ago but faded in the second half, was weak, possibly from a stomach virus, and not effective.
But the good news was Affeldt. The blister problem that dogged the gifted young left-hander last year apparently has been fixed by offseason surgery. The Royals believe he has 20-win stuff.
"It's a real close-knit team," infielder Desi Relaford said. "Instead of guys giving handshakes, we're giving hugs. We spend time off the field together. We're a close squad. Everybody pulls for each other, everybody likes each other."
Copyright 2018 The Associated Press. All rights reserved. This material may not be published, broadcast, rewritten or redistributed. We strive to uphold our values for every story published.