Leo Beuerman's dream has come true.
Beuerman, a disabled but fiercely independent man whose life story was made famous in the 1969 Academy Award-nominated film "Leo Beuerman," hoped someday he could somehow make a difference in people's lives.
"One of my greatest wishes has always been to start a profitable business and help others," he wrote in his self-typed autobiography. "All through the teachings of Christ you find that a helping hand for one's unfortunate brother is a Christian's highest duty."
Thirty years after Beuerman's death (he lived from 1902 to 1974), the little man who became a kind of Lawrence icon would likely be amazed at the extent of what is being done in his name.
The Leo Center, a Christian-based, all-in-one social services facility offering a range of support for those in need, will open April 5 on the first level of the former Riverfront Mall.
The nonprofit entity, backed by an interdenominational consortium of 20 Lawrence churches, is named for Beuerman.
"Leo Beuerman should have had zero chances at any kind of a meaningful life (given the severe extent of his multiple disabilities). But what I've found out is that it was his faith in God that enabled him to succeed," said the Rev. Paul Gray, pastor of Heartland Community Church, 619 Vt., who is guiding the project.
"It was his goal that he could somehow make something out of his life to help other people. And that's happening right now, in Lawrence."
Beuerman, who lived in rural Douglas County, was slightly more than 3 feet tall. He was unable to walk or speak clearly, and he was deaf and nearly blind.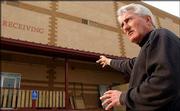 He made his living selling pencils, pens and other items from a handmade cart that he parked on downtown streets.
Beuerman got to town on an old tractor, lowering himself to the ground in his cart by a system of chains and pulleys.
He was an instantly recognizable figure in Lawrence, made famous by the city's Centron Films in the short documentary "Leo Beuerman."
From getting to giving
The Leo Center, which occupies 7,800 square feet of finished space at the Riverfront Mall's easternmost end, is designed to reach out to its clients in any way that they need help.
It will be the new home of the Heartland Medical Clinic, which has been operating out of the basement of Heartland Church, offering discounted medical care to those who do not have health insurance. In its new form, it will also accept third-party insurance from paying clients.
The Leo Center, a Christian-based, nonprofit social service facility, will open April 5 on the first level of the former Riverfront Mall.Its main entrance will be at the mall's easternmost end, accessible by New York Street.The Rev. Paul Gray, who is leading the project, is asking anyone with photos, home movies or other materials about Leo Beuerman to contact him at Heartland Community Church, 619 Vt., at 832-1845.The center's organizers would like to use the materials to build a display about Beuerman's life.The center welcomes contributions of service, time or money. The center can be reached at 841-7297.
It will house a new food pantry, operated as a partnership between the Leo Center's participating Lawrence churches and the East Central Kansas Economic Opportunity Corp., known as ECKAN.
The Leo Center will also house a new entity called Love Lawrence, which will work to better coordinate the benevolence ministries of churches across the city.
In addition, the center will offer free marriage and family counseling, as well as a wide range of life skills and continuing-education classes such as job readiness, interviewing, vocational training and Christian 12-step programs.
All of this will be offered under one roof.
"The Leo Center is a partnership of churches, businesses, nonprofit organizations and individuals who are all coming together to serve people in need in the name of Christ," Gray explained. "One word that really captures all of this is 'holistic.' We want to help people in every area of their lives: financial, medical, spiritual and emotional."
Organizers of the Leo Center see this as a big improvement on the decentralized way Lawrence congregations and other groups currently offer support to people who need clothing, food, money or medical care.
"In most cases, we feel like we're putting a Band-Aid on cancer. All we're doing is meeting an immediate need. Our goal is to help people go from 'getting to gaining to giving.' We want to help people go from those who are dependent upon the system to become those who can give back to others in need," Gray said.
Inspiration continues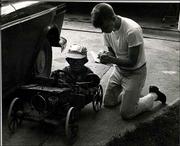 Possibly the most innovative aspect of the Leo Center is the nonprofit entity called Love Lawrence, which will be made up of volunteers from about 20 of the city's churches.
When people come to the Leo Center for help, they will be offered the opportunity to be paired up with a four-person "friendship team" that will serve as a kind of support group for them as they access the center's programs.
If the person is interested in participating, then one member of the team will meet them at classes each week at the center, serving as a sponsor. Another member of the team will provide child care during the class, if needed. The other members of the team will serve as that person's advocate in the job market, at school, with other social service agencies and with creditors, as well as inviting them to church and Sunday school.
"Basically, they'll just be their friends for as long as it takes to get them on their feet," Gray said.
Love Lawrence will also build a network of Lawrence businesses that will strongly consider hiring people who come into the friendship-team program. And one or more team members will serve as an ongoing liaison with that person's employer.
"There are people in all walks of life and in all neighborhoods of Lawrence who need help and encouragement in different areas of their life," he said. "We want to provide that help, because that's what Christ calls us to do."
Would Beuerman, if he were still alive, ever believe that such an effort would bear his name?
"I think he does believe it, because I think he knows about it. I think he's in heaven watching us," said Craig Weinaug, Douglas County administrator.
Weinaug's mother, the late Catherine Weinaug, befriended Beuerman and made him a member of the family while Craig was growing up in Lawrence. She died in 1999.
"He had a dream that he would someday make lots of money and be able to help people who were in need. It happened differently than he had planned. He never made much money, but he has helped lots and lots of people, through his story, before his death and after his death," Craig said.
"His influence in terms of inspiration has been incredible, and that inspiration continues."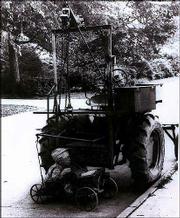 Copyright 2018 The Lawrence Journal-World. All rights reserved. This material may not be published, broadcast, rewritten or redistributed. We strive to uphold our values for every story published.