The Baylor women's basketball squad sat down before the season to discuss the tragedy and scandal surrounding the school's other basketball team.
When coach Kim Mulkey-Robertson was sure her players were OK, she challenged them.
"We separated ourselves from all of that, and I challenged the team to be the shining light of the athletic department this winter," Mulkey-Robertson said. "We never discussed it again, it didn't pertain to us. It affected our school, but not our program and what we set out to do."
The Bears (26-8) went on to their fourth straight 20-win season, and didn't stop there. They are in the NCAA round of 16 for the first time and play top-seeded Tennessee on Sunday night in Norman, Okla. in the Midwest Regional.
Like the rest of the Baylor community, the Bears were hurt and shocked over the shooting death last summer of Patrick Dennehy and the results of the ensuing investigation.
A former teammate of Dennehy's was charged with murder. There also were revelations of serious NCAA violations that forced the resignation of coach Dave Bliss.
"Our hearts hurt, but we needed to step forward for ourselves and focus on what we had to do," senior Jessika Stratton said. "We're excited that something positive is going on. It's good timing."
After a 91-76 win over Florida in a second-round NCAA game Monday, Mulkey-Robertson said the team's success was "good medicine" for the school.
"The Bears' success has provided Baylor with a wonderful success story to rally around after a most difficult series of events last summer," said athletic director Ian McCaw, hired in September to replace Tom Stanton, who resigned along with Bliss.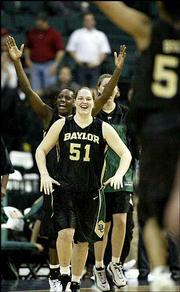 "There is no question morale has improved dramatically over the last several months," McCaw said. "There is a real sense of momentum around Baylor athletics."
McCaw likes the progress being made by football coach Guy Morriss and men's basketball coach Scott Drew, each at Baylor just one season.
While Drew's team went 8-21, the energetic coach maintained a positive outlook with just six scholarship players most of the season. Baylor's top three scorers had transferred to NCAA Tournament teams.
The Bears are within one of the school record of 27 wins after overcoming their own adversity. They have just nine healthy players after a series of injuries and the January dismissal of their starting point guard for violating team rules.
"It's amazing what a team can accomplish, and an individual player can accomplish, when faced with adversity," Mulkey-Robertson said.
Seven of Baylor's eight losses are to teams ranked 17th or better in the latest AP poll. The only losses in its last 10 games were against No. 4 Texas, 73-72 in double overtime at Austin, Texas, and 63-59 in the Big 12 Conference tournament.
"It's a situation that you either rise to the occasion and respond, or don't," Stratton said. "There was no question we had to respond. For us to be a good team, we had to respond to every situation."
Copyright 2018 The Associated Press. All rights reserved. This material may not be published, broadcast, rewritten or redistributed. We strive to uphold our values for every story published.