St. Louis — Given Alabama-Birmingham's chaotic style of play, Kansas University's men's basketball team would prefer to be 100-percent healthy when it squares off with UAB tonight.
That won't be the case. But, despite all the injuries that have annoyed the Jayhawks in recent weeks, the players hurting the most don't feel like they're at a disadvantage.
"I've practiced three days in a row," said junior Wayne Simien, who's battling a nagging groin injury. "It's tournament time, and I've been practicing, so I'm just as prepared as the next guy."
Simien, who reinjured his groin in KU's 78-53 victory over Illinois-Chicago in the NCAA Tournament's first round Friday, has been monitored closely to prevent more aggravation. He took part in Thursday's open practice at the Edward Jones Dome.
"Wayne's banged up right now," said senior Jeff Graves, who has been bothered by a bum knee recently, "but he has a big heart. He'll go out there and perform the way he does."
While Simien worked out, junior Keith Langford had minimal participation, and freshman J.R. Giddens sat out the entire hour-long practice. Langford is hampered because of cartilage damage in his knee, and Giddens has dealt with a stress fracture in his foot for much of the season.
KU's open-to-the-public practice Friday focused on basic drills rather than complex preparation for UAB's unique, fast-paced style.
Giddens usually is on the court with his team when practices are more important.
"Normally, I don't practice that much," Giddens said. "This week, since I have to get used to UAB's pressure, I've been practicing most of the time."
And, like last weekend, nobody on KU's team will sit out tonight when KU and UAB tip off at 6:10 p.m. in St. Louis.
"I've been really trying to take care of myself the last couple of days," Simien said. "I'm ready to go out there and give it my all with whatever I have."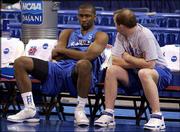 Copyright 2018 The Lawrence Journal-World. All rights reserved. This material may not be published, broadcast, rewritten or redistributed. We strive to uphold our values for every story published.