Seattle — The Gonzaga Bulldogs don't plan to fall victim in the kind of upset that used to be their NCAA Tournament calling card.
Ronny Turiaf scored 14 of his 15 points in the second half, and Cory Violette added 13 points and 10 rebounds, helping second-seeded Gonzaga beat Valparaiso, 76-49, Thursday night in the first round. Blake Stepp added 13 points and nine assists.
Freshmen Adam Morrison, with 10 points, and Sean Mallon, who added six, kept the Bulldogs steady in the first half, when Stepp shot 0-for-6 and Turiaf scored only one point after going to the bench because of two fouls.
The Zags (28-2) won their 21st straight contest and advanced to the second round against 10th-seeded Nevada (24-8), which beat No. 7 Michigan State in the earlier game of the St. Louis Regional.
The Bulldogs started slowly -- perhaps feeling the weight of the school's highest seeding in seven NCAA Tournaments -- but they finished with a flourish. Gonzaga ended the night with a 24-8 surge over the final 10 minutes.
Joaquim Gomes had 13 points and eight rebounds, while Jimmie Miles added 12 points for 15th-seeded Valparaiso (18-13), the only Indiana school in the tournament.
Valpo shot 28 percent and trailed by double digits most of the night.
The devoted Kennel Club fans who brought their red and blue T-shirts on the five-hour drive from Spokane cheered when the Bulldogs broke the game open with a 12-2 burst midway through the second half.
Turiaf scored twice and hit a pair of free throws, while Violette was in place for a putback as Gonzaga methodically pulled away.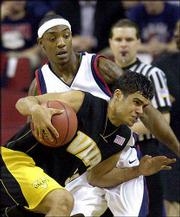 The Bulldogs finally flexed their considerable muscles near the five-minute mark, with Stepp blowing past his defender for an easy layup, followed by rim-clattering dunks from Turiaf and Violette.
Gonzaga wasn't necessarily overpowering, but the Zags slowly wore down the Crusaders, champions of the Mid-Continent Conference. It was enough to put the Bulldogs into the second round for the fifth time in six years.
Nevada 72, Michigan State 66
Seattle -- Kirk Snyder hit a three-pointer that put Nevada ahead with 2:52 left, and the Wolf Pack went on to upend seventh-seeded Michigan State.
It was Nevada's first win ever in the tournament and its first victory in nine games against Big Ten opponents.
Snyder, the WAC player of the year, finished with 19 points for Nevada (24-8). Paul Davis led Michigan State (18-12) with 16 points.
Copyright 2018 The Associated Press. All rights reserved. This material may not be published, broadcast, rewritten or redistributed. We strive to uphold our values for every story published.