No men's basketball team in the country enters the NCAA Tournament with more recent postseason success than Kansas University.
The Jayhawks have advanced to the Final Four the past two years, something no other program can boast.
"It's an advantage we have over a lot of teams. We know what it takes," KU junior guard Keith Langford said.
Langford and fellow juniors Aaron Miles, Michael Lee and Wayne Simien advanced to the 2003 Final Four in New Orleans with Marquette, Syracuse and Texas and to the 2002 Final Four in Atlanta with Maryland, Oklahoma and Indiana.
The juniors (Simien missed last year's tourney because of injury) will attempt to lead the way to three in a row -- a feat no KU team has accomplished.
The quest will begin Friday, when the Jayhawks (21-8) tangle with Illinois-Chicago (24-7) approximately 8:55 p.m. at Kemper Arena.
"I've been to the tournament and the Final Four twice. It's something you've got to enjoy, get excited about," Langford said, asked the secret of KU's postseason success compared to other programs in the 65-team field.
"You get to the site and hotel and see everything going on, that's always a thrill in itself. We know how tough it is, but you have to have fun."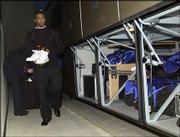 Lee believes KU's experience in tourney games can be a factor in KU having loads of fun in the 2004 NCAAs.
"I think it can help tremendously," Lee said. "Especially Wayne, Keith and Aaron ... since they were freshmen they were put right in. They have been in a lot of pressure situations. Just being there and knowing what to expect helps a lot."
Of course, Lee has also been in pressure situations in the postseason.
His possible game-tying three-pointer from the corner with two ticks left was rejected by Hakim Warrick last April, saving Syracuse's 81-78 national championship victory over the Jayhawks.
"It still drives me somewhat," Lee said of last year's experience, "but I want to be back because it's our goal this year, it's in front of us this year. I really do want to get back."
Lee was haunted by memories of the blocked shot all last summer when he was forced to sit on the sidelines during pickup games because of a left knee injury.
"I watched a lot of tape, but I kept going back to the Syracuse game," he said. "The first couple times I watched it, I studied it. I saw a million different things I could have done on that shot. Other than that, I didn't want to watch the game. It just brings up bad memories. I've finally put it behind me now.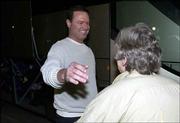 "This is a new year, a new tournament now."
Lee said KU's postseason success during his career was something he would never take for granted. He dreamed of perhaps playing in one Final Four after signing with KU his senior year at Portland (Ore.) Jefferson High.
"Every player who goes to college says he wants to play in the Final Four. All I knew in high school is it's something I really wanted," Lee said. "Going to two Final Fours in two years is beyond my imagination."
Langford indicated he never pondered the college postseason as a prep.
"I was just trying to earn a scholarship in high school," he said. "I didn't spend any time thinking about college. Since I've been here, it's been gratifying to make the Final Four twice. My teammates deserve the credit for that."
Three-for-three is not out of the question.
"Yes, definitely we can make a run," Lee said. "Understand we have to come together now as a team moreso than ever. But it can be done."
KU coach Bill Self knows the experience of his juniors in previous NCAA competition is a plus.
"I hope it helps a lot," Self said. "It should help a lot. One thing about these guys ... they believe the final score will end up favorable. They believe it before they play each game."
Early in the year, memories of past Final Fours might have hurt KU's progress under their new coach.
"I feel this team had experienced so much success they thought, 'We'll just get it done. Don't worry about it, we'll be fine.' That's not the way it works," Self said. "They've grown up as a team, but guys who have been there and done that should help us a lot."
As far as possibly starting the season slowly because of past Final Four experience spoiling the Jayhawks, Lee said: "I think you play to get better every day, but in the back of our minds we might have thought when March comes we can win again no matter what. I do think we've tried to get better every day. That's what coach has stressed and that's what we've tried to do. We'll do our best again this postseason. That's all we can do."
Copyright 2018 The Lawrence Journal-World. All rights reserved. This material may not be published, broadcast, rewritten or redistributed. We strive to uphold our values for every story published.