After snow and cold weather significantly slowed builders in January, the elements almost shut down Lawrence homebuilders in February, according to a recently released report by city officials.
Lawrence builders only started seven single-family homes in February, the lowest monthly total since December 2000. Combined with January's lower-than-average housing starts, Lawrence homebuilders are off to their slowest start since 1997.
"The weather has been causing us problems," said Frank Salb, of Lawrence-based Salb Construction. "It was just so cold that it was hard for us to start anything. I took out four permits in January, and it was more than a month before I was able to dig those basements."
The seven permits issued by city building inspectors in February were down from 21 issued during the same month a year ago. Builders have started 23 homes this year. That's down from 41 a year ago and from the prior five-year average, which also was 41 permits.
The slow start has both builders and real estate agents concerned that there will be a shortage of new homes available for sale in June and July, which is normally when homes started in January or February are completed.
"If people are looking to buy a new home this summer, it probably will be scarce," said Tex Harrell, a real estate agent with Stephens Real Estate.
But the weather isn't getting all the blame. Salb said there seemed to be a shortage of lots available for construction.
"I have talked to several builders who just don't have any lots to build on," Salb said. "That is going to take some time to correct itself because I don't know of any inexpensive or reasonably priced lots coming on line anytime soon."
Harrell said the situation likely would catch some homebuyers by surprise.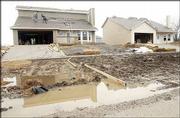 "It is going to be tight for a while," Harrell said. "It is going to drive the price of housing up. The status quo has been that there's always plenty of new houses to buy in Lawrence, but that is going to change."
Opinions are mixed on why there is a shortage of lots. Some developers have said the shortage was an aftermath of 9-11, when concern about a possible downturn in the housing market slowed the purchase of development property. It takes about two years from the time a developer buys a piece of ground to prepare it for development.
City growth policies also have been blamed for the shortage.
"My personal opinion is that the shortage has a lot to do with politics and city government," Harrell said. "From what I've seen and what I've heard, they are making things so difficult for developers that it just is not happening. A lot of them are going to Baldwin or Eudora."
Meanwhile, the total value of projects started during February fell to $3.02 million, down from $5.31 million in January and $6.03 million in February 2003. The $3.02 million total was the lowest one-month total since January 1997.
The largest project for the month was a $500,000 remodeling project at the former Kmart store, 31st and Iowa streets, which is being converted into retail space for four stores.
Other large projects included a $400,227 addition at Fire Station No. 3 at 3708 W. Sixth St., and a $130,000 building at 1201 E. 24th St. The building will be an office for Morgan Concrete Services and a new self-storage business called Space Place Inc.
Copyright 2018 The Lawrence Journal-World. All rights reserved. This material may not be published, broadcast, rewritten or redistributed. We strive to uphold our values for every story published.