No one ever said growing was easy.
Just ask Janet Murphy, executive director at Boys and Girls Club of Lawrence.
"When I came here in 1999, we had 120 kids, one location and a $120,000 budget," she said. "Today, we're in seven locations, we have 500 kids on any given day, and the budget's at $950,000."
Not surprisingly, the club has outgrown its headquarters at 1520 Haskell Ave.
"We could serve three times more kids than we're serving now, easy," Murphy said. "We've had to start a waiting list."
Murphy, 43, doesn't have a full-time office manager. If she's in a meeting, her telephone often goes unanswered.
"Every year, I put an office manager in the budget," she said. "And then every year, it comes down to 'OK, I can hire an office manager or I serve 20 more kids at Cordley (School). What's it going to be?'
"I've always taken the 20 kids at Cordley," she said.
That's about to change.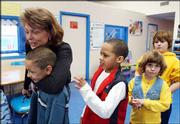 Anonymous letter
About two months ago, members of the Boys and Girls Club governing board received an anonymous, three-page letter accusing Murphy of mishandling the program's finances.
The letter prompted a "very long meeting," said board President Terry Campbell.
"The first thing we did was bring in an outside accounting firm to investigate, to see if there was any truth in the allegations," he said. "There were some accounting irregularities, but there were no instances of fraud or misappropriation of funds. There is no evidence of any grants being handled improperly. There is no money missing.
"What it came down to was that we've grown so fast, our accounting practices haven't kept up. You can't have a budget of almost a million dollars and not have a full-time bookkeeper."
Campbell said the club soon would be advertising for a full-time bookkeeper/office manager.
Murphy said she welcomed the board's decision.
"I trust them completely," she said. "They care about the kids and that's all that matters."
Murphy declined to discuss the letter.
"I'd rather not," she said. "Most of it was hateful and untrue. I'd rather focus on the positive."
Club defended
Others were quick to defend the Boys and Girls Club.
"There are a lot of kids in this town who wouldn't have breakfast, lunch, dinner or a place to go if it weren't for the Boys and Girls Club," said Lt. Dave Cobb, a spokesman for the Lawrence Police Department.
"Back when I was on patrol some 17 years ago I saw firsthand the work they did," he said. "As far as I'm concerned, it's some of the best money that gets spent in this town."
Tina Todd's two boys spend their mornings and after-school afternoons at the Boys and Girls Club at New York School, 936 N.Y.
"It's a very beneficial program," Todd said. "It keeps the kids off the street or (from) sitting in front of the TV. It's very structured. The staff is really good. And when the kids get home, they already have their homework done."
That's because Boys and Girls Club workers help students with their homework during what they call Power Hour.
"We have to do our homework before we can play games and get a treat," said Jaquita Davis, a sixth-grader at New York. "It's cool."
Records show that 63 percent of the children in Boys and Girls Club are from low-income families; 60 percent live in single-parent households.
Kelley Davis is a single parent. Her two children belong to the club at New York School.
"If it wasn't for Boys and Girls Club, I couldn't work," Davis said. "I just got a job waitressing. When you're a waitress you have be able to stay when things get busy. You can't just leave when it's time to go get your kids. If you do, they just tell you not to come back.
"My kids love Boys and Girls Club," Davis said. "I got off early the other day, so I went to pick them up early. And you know what? They got mad at me; they didn't want to leave, they were having so much fun. Everything about the place is positive."
Grant money
Al Hack wants to keep it that way. He's chairman of the Core Group for Afterschool Sustainability for Funding, an ad hoc group that's looking for way to replace a $400,000 federal grant that helps underwrite the Boys and Girls Club in Pinckney and Cordley schools and similar programs run by the school district in Woodlawn and Kennedy schools.
The 21st Century grant expires at the end of the current school year and cannot be renewed.
"We're in the final stages of coming up with a plan," Hack said. "We're looking at some other grants, some foundation money, a fee increase, perhaps, and maybe some sales-tax revenues or some alcohol-tax revenue. We don't want to see any of these programs close."
Other agencies in the Core Group include the Lawrence school district, K-State Research and Extension, and GaDuGi Safecenter, formerly known as the Rape Victim Survivor Service.
"You'll soon be hearing from us," Hack said. "We're going to need the community's help."
Copyright 2018 The Lawrence Journal-World. All rights reserved. This material may not be published, broadcast, rewritten or redistributed. We strive to uphold our values for every story published.