Their violence causes damage, injury and death. Still, tornadoes are a growing tourist attraction in Kansas and the Midwest.
"It is an act of nature that people can't control, yet they can see some beauty and awe in a tornado," said Overland Park storm chaser Jim Farnham. "I'm just fascinated by them."
Farnham is going into his fourth spring as owner and operator of Violent Skies Inc., a business that hauls vanloads of tourists on weeklong trips through the Midwest in search of the thrill of seeing a tornado.
As tornado season officially begins with observance of Severe Weather Awareness Week, tour operators like Farnham are gearing up for a season that runs through the summer and will see them covering thousands of miles in pursuit of the elusive twisters.
It isn't clear exactly how many tornado tour businesses there are, but a search on the Internet reveals dozens. Their numbers have been increasing since the early 1990s, said Bill Kartargan, meteorologist with the National Weather Service in Topeka. With the boom in tours has come a steady boom in tornado tourists.
"The demand is there," Kartargan said.
David Gold, a meteorologist who operates Houston-based Silver Lining Tours, said his business had grown 10 percent a year since he started offering tornado tours in 1997. He thinks the fascination with twisters will continue to grow.
"Storm chasing has worked its way into popular culture to a fairly mature level, but I don't know that there are that many people out there that know the tours are there," Gold said.
Kyle Gerstner, a Lawrence photographer known for his tornado pictures, said he hadn't encountered many tour vans during his own tornado-chasing excursions, but he expects to see more of them in the future.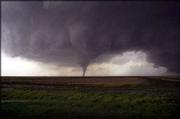 "I suppose as our society becomes more fluid, we're going to be out doing wilder and crazier things with our spare time," Gerstner said.
The movie
Interest in watching tornadoes was whipped up, the experts agreed, by the popular 1996 movie "Twister," a yarn about tornado chasers who seemed constantly to be dodging hail, lightning or cattle tossed about by a twister's ferocious winds.
Before the movie, Gold's perception of storm chasing was that it was taboo and looked down upon by the general public. In those days, he recalled, he didn't talk much about his interest in the subject.
That changed one day when Gold watched a National Geographic special on television about storm chasers and realized there were other people with the same interest he had.
"I decided maybe I'm not so crazy after all, or at least I'm not the only one," Gold said. "When 'Twister' came out, it sort of glamorized it a little bit."
Also whipping up interest and acceptance is a steady diet of television programs, mostly on cable TV weather and science channels, built around dramatic video of tornadoes churning across farmland, over highways or plowing into cities.
Farnham is not a meteorologist, but began studying meteorology and taking classes while earning a degree in applied mathematics at Kansas State University. He began storm chasing on his own. In 1999, his aunt invited him to accompany her on a two-week tornado tour.
"I had a blast," Farnham recalled. "I thought it was very interesting and very cool. I also thought, 'Hey, I might be able to do this.'"
The advent of home video cameras also has led to more interest in tornadoes, Gold said. Because more people have video cameras, more tornadoes are being recorded on tape.
Finding a tornado
Storm chasers, including those in the tour business, use computers to make use of maps and Internet sites where weather information can be downloaded and studied to determine the likeliest locations to find a tornado. Radar dishes and antennae sprout from the roofs of the pursuit vehicles.
Early in the spring, Gold starts his tours from Oklahoma City, where he and his tourists meet. Later in the spring or early summer, the meeting place moves to Denver as the brunt of the tornado season moves north. Farnham starts his tours in the Kansas City area.
Wherever the starting point, the tour groups' place of business is Tornado Alley, which stretches from Texas north through the Dakotas.
After compiling and studying weather data, Gold and Farnham drive to an area they think presents the best opportunity to see tornadoes, or at least some violent thunderstorms. They commonly drive hundreds of miles a day.
"I tell them (tourists) that it's not like 'Twister,'" Farnham said. "It seemed like in the movie all they had to do was drive down the next street and they'd see a tornado."
Gold has taken tour groups to within several hundred yards of a tornado. Farnham thinks a mile is close enough to satisfy a tourist's curiosity.
"You don't have to get very close to see a tornado," he said.
Gold has calculated the odds are 50 percent any given tour will see a tornado. Farnham puts his at 25 percent, but most of the time his tours will see some type of violent weather, whether it is baseball-sized hail, severe lightning or something more dramatic, he said.
Most tornado tour groups charge fees that range from about $1,000 per person to $2,000 or more. The typical tour will last a week, and the fees usually include hotel accommodations.
The tourists usually are professional men and women who live on the coasts, Farnham and Gold said. Some come from Europe and other foreign countries, where weather patterns are not as conducive for producing tornadoes.
Few of the tourists are from Kansas or other Tornado Alley states, Gold and Farnham said.
'Highly unusual'
On Sunday, May 4, 2003, the most significant outbreak of tornadoes occurred in Kansas in more than 25 years. A total of 12 tornadoes tore through the Kansas City metropolitan area, including Leavenworth and Wyandotte counties, and southeast Kansas near Pittsburg. Eight people were killed.
Both Gold and Farnham were in southeast Kansas and southwest Missouri that day.
"I thought the more powerful storms would be down south, so we waited just west of Joplin," Farnham said. "We followed one that went to Stockton, Mo."
Gold's group also chased a tornado in southwest Missouri for about 50 miles.
A few days later, on May 8, 2003, the day a tornado struck southwest Lawrence, both Gold and Farnham were driving their tour vans in the area. Gold had driven east of Lawrence, where he thought there was the best chance of seeing a tornado. They were watching for a thunderstorm that would spawn a twister, so they never saw the one that swooped down on the Aberdeen South apartment complex, 4700 W. 27th St., and damaged several buildings and houses.
"That tornado was occurring from a thunderstorm that was almost gone," Gold said. "There was more to the tornado than the thunderstorm, and you had to be right next to it to see it. That was a highly unusual event."
Farnham, meanwhile was tracking the tornado and following it from the south. His group missed it also.
"We were trying to catch up with a line of (storm) cells and we had been right behind it," Farnham said. "We came through Lawrence right after it hit those apartments."
There were 91 tornadoes spotted in Kansas last year, 39 more than usual, according to the National Weather Service.
---
Here's what the National Oceanic and Atmospheric Administration, the National Weather Service and the American Red Cross recommend in severe weather conditions:
If a tornado approaches:
In a home or building, move to a predesignated shelter, such as a basement.
If an underground shelter is not available, move to an interior room or hallway on the lowest floor and get under a sturdy piece of furniture.
Stay away from windows.
Get out of automobiles.
Do not try to outrun a tornado in your car; instead, leave it immediately.
Mobile homes, even if tied down, offer little protection.
In a severe thunderstorm
Find shelter in a building or car. Keep car windows closed and avoid convertibles.
Telephone lines and metal pipes can conduct electricity. Unplug appliances. Avoid using the telephone or any electrical appliances. (Leaving electric lights on, however, does not increase the chances of your home being struck by lightning.)
Avoid taking a bath or shower, or running water for any other purpose.
Turn off the air conditioner. Power surges from lightning can overload the compressor, resulting in a costly repair job.
Draw blinds and shades over windows. If windows break due to objects blown by the wind, the shades will prevent glass from shattering into your home.
If caught outside:
If you are in the woods, take shelter under the shorter trees.
If you are boating or swimming, get to land and find shelter immediately.
Go to a low-lying, open place away from trees, poles, or metal objects. Make sure the place you pick is not subject to flooding.
Be a small target. Squat low to the ground. Place your hands on your knees with your head between them. Make yourself the smallest target possible.
Do not lie flat on the ground -- this will make you a larger target.
Copyright 2018 The Lawrence Journal-World. All rights reserved. This material may not be published, broadcast, rewritten or redistributed. We strive to uphold our values for every story published.