On the day U.S. Sen. John Kerry clinched the Democratic nomination for president, Kansas Democrats participating in their party's presidential caucuses were reminded about their ultimate goal.
"Republicans in this state just don't get it," state Rep. Paul Davis, D-Lawrence, told Democrats at a caucus site at Lawrence Memorial Hospital. "We know that the most important thing is to send George Bush packing in November."
Kerry, of Massachusetts, won 32 of the 33 Democratic National Convention delegates at stake at 50 caucuses across Kansas. One delegate went to former Vermont Gov. Howard Dean.
Kansas Democrats technically were filling 402 seats for four regional caucuses to be held April 3. But the 33 national convention delegates were divided among candidates based on how many of those 402 seats each candidate captured.
Over the top
After Kerry's showing Saturday in Kansas, he now has 2,194 delegates, 32 more than the 2,162 delegates needed to claim the nomination, according to an Associated Press tally. The Democratic National Convention is July 26-29 in Boston.
Kerry was the choice in Douglas County by more than 2-to-1 over his nearest competitor, Ohio U.S. Rep. Dennis Kucinich. Dean, who has dropped out of the race, was a distant third.
There were four caucuses Saturday for Douglas County Democrats, depending on the state Senate district in which they reside. Two caucuses at Lawrence Memorial Hospital drew 168 participants. Forty-one Democrats attended a caucus in Baldwin. Democrats from the southwestern part of Douglas County participated in a Topeka caucus that included Shawnee County residents as well.
Low turnout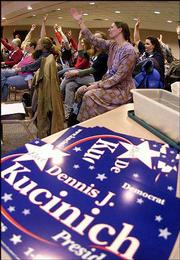 The number of participants was far short of the nearly 16,000 Democrats registered in Douglas County. Statewide, about 2,000 registered Democrats participated in the caucuses, according to state party officials.
Those who attended were enthusiastic about taking part in their party's presidential sweepstakes, but some said caucuses weren't the most democratic way to select delegates.
Kansas voters are more familiar with primaries, which have been canceled in the past three presidential election years, and more intimidated by caucusing, said caucus participant Craig Sundell, of Lawrence.
"A small group can come and take over," he said before the start of the caucuses at LMH.
Though Sundell thought the results Saturday would have been different if there had been an actual primary election, Jamie Shew, vice chairman of the Douglas County Democratic Party, stood up for the participatory nature of the caucus.
"It's very democratic because you actually come physically and stand up for your candidate," he said.
His wife agreed.
"I like that it involves neighbors talking to neighbors," said Dawn Shew, rules chair for one of the caucuses at LMH.
Super delegates
Of the eight delegates whose spots were not at stake Saturday, four endorsed Kerry before the caucuses anyway. They were Gov. Kathleen Sebelius; Teresa Krusor, the state party's vice chairwoman; Constance Wray, one of two Kansas representatives on the Democratic National Committee, and Chris Galloway, national president of the Young Democrats.
Another such delegate, state party Chairman Larry Gates, endorsed Kerry during a news conference after the caucuses.
DNC member Larry Tenopir, an automatic delegate, endorsed Dean last September. Tenopir said Saturday he still supported Dean.
A seventh automatic delegate, 3rd District Congressman Dennis Moore, has not endorsed any candidate publicly. The last delegate will be chosen as an unpledged "add-on" at a state convention on April 24.
However, Kansas, with six electoral votes, is considered a safe Republican state for the general election.
Four years ago, President Bush won 58 percent of the vote, to 37 percent for Democratic nominee Al Gore. The last Democrat to carry Kansas was Lyndon Johnson in 1964.
Copyright 2018 The Lawrence Journal-World. All rights reserved. This material may not be published, broadcast, rewritten or redistributed. We strive to uphold our values for every story published.