Atlanta — Just before tipoff, Mississippi State gathered at midcourt, holding aloft the trophy for its first Southeastern Conference championship in 13 years.
Then Lawrence Roberts tumbled out of bounds -- and the Bulldogs soon were tumbling out of the SEC tournament.
Vanderbilt stunned No. 4 Mississippi State in overtime, pulling off a 74-70 shocker in the quarterfinals Friday night to almost certainly deny the Bulldogs in their bid for a top seed in the NCAA Tournament.
"We had put ourselves in position for a great seed," coach Rick Stansbury said. "I guess we made the decision a little easier for the committee as far as who gets a 1 seed and who gets a 2 seed. We'll be happy with a 2 seed."
Roberts, the SEC player of year, had a chance to win it in regulation for the Bulldogs (25-3) but his three-pointer at the buzzer clanged off the back of the rim.
That epitomized the night for Roberts, who wasn't the same player after he tumbled out of bounds with 14 minutes left in regulation trying to catch an errant pass. He fell over a cameraman behind the basket, leaving the Mississippi State star with a sprained right ankle.
Vanderbilt (21-9) rallied from 11-point deficit early in the second half and clinched the victory at the free-throw line -- a spot that gave the Commodores trouble most of the night. Julian Terrell put them ahead to stay with a couple of foul shots, and Corey Smith sealed it by hitting two more with 20.2 seconds remaining.
"We just wanted to keep it close," senior Russell Lakey said, "so something special would happen at the end."
Vanderbilt, likely assuring itself of a spot in the NCAA Tournament, advanced to meet Florida in today's semifinals.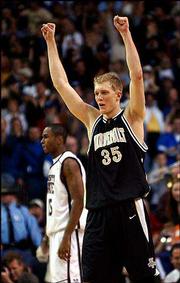 No. 2 Stanford 70, Oregon 63
Los Angeles -- Josh Childress scored 18 points and Stanford pulled away in the final 2 1/2 minutes to beat Oregon in the Pac-10 tournament semifinals. The second-ranked Cardinal (28-1) will play either Arizona or Washington in today's championship game. The Ducks (15-12) have lost five of their last eight games and are likely headed to the NIT a year after winning the Pac-10 tourney title.
No. 5 Duke 84, U.Va. 74
Greensboro, N.C. -- Shelden Williams had a career-high 27 points and eight rebounds to help Duke beat Virginia in the Atlantic Coast Conference tournament quarterfinals. Daniel Ewing added a season-high 26 points for the fifth-ranked Blue Devils (26-4), who have won a record 16 straight ACC tournament games since losing to North Carolina in the 1998 final. Duke, seeking its record sixth straight championship, will play fourth-seeded Georgia Tech in the semifinals.
No. 6 Pittsburgh 62, Boston College 53
New York -- Carl Krauser scored six points in the final minute and defending champion Pittsburgh beat Boston College to reach the Big East title game for the fourth straight year. The Panthers (29-3) will play Connecticut, which beat Villanova, for the championship tonight.
No. 8 Kentucky 69, Georgia 60
Atlanta -- Cliff Hawkins scored 23 points, and Kentucky took control with a late 12-3 run, beating Georgia in the SEC quarterfinals. Gerald Fitch added 15 points for the Wildcats (24-4), who advanced to meet South Carolina in the semifinals.
No. 9 Connecticut 84, Villanova 67
New York -- Ben Gordon scored 29 points and Connecticut (26-6) won again without Emeka Okafor. Gordon had the same number of points in the quarterfinal win over Notre Dame on Thursday, which Okafor, the conference player of the year, also missed because of back spasms. The loss ends Villanova's surprise run. The Wildcats (16-16) beat Seton Hall and Providence to become the first team in the tournament's 25-year history to enter with a sub-.500 record and win two games. The .500 record means they are eligible for the NIT.
No. 10 Wisconsin 66, Minnesota 52
Indianapolis -- Mike Wilkinson scored 22 points, and shut down Kris Humphries to lead Wisconsin past Minnesota in the Big Ten quarterfinals. Devin Harris added 21 points for the Badgers (22-6), who will play the Michigan State-Northwestern winner in the semifinals. Humphries scored 12 points on 5-of-16 shooting, well below his 21-point average. He also had nine rebounds for the Gophers (12-18).
No. 12 Illinois 71, Indiana 59
Indianapolis -- Deron Williams scored 12 of his 20 points in the final five minutes, and Illinois used a stifling defense to pull away from Indiana in the Big Ten quarterfinals. Luther Head had 29 points for the regular-season champion Illini (23-5), winners of 11 straight games. Illinois will face Michigan in the semifinals. Mark Johnson led Indiana (14-15) with 16 points.
No. 13 Cincinnati 66, Saint Louis 46
Cincinnati -- Tony Bobbitt led a three-point blitz that carried Cincinnati past Saint Louis in the Conference USA semifinals. Cincinnati (23-6) went 5-of-6 from behind the arc during a 19-point run in the second half that sent the Bearcats to the championship game for the third time in the past four years. Bobbitt made four threes for a team-high 12 points, and Cincinnati went 10-of-21 from behind the arc against a packed-in defense. In the other semifinal, DePaul rallied to beat Alabama-Birmingham, 75-74.
No. 14 Georgia Tech 83, No. 16 North Carolina 82
Greensboro, N.C. -- Jarrett Jack hit a 15-footer with 1.4 seconds to play to lift Georgia Tech past North Carolina. The Yellow Jackets (23-8) blew an 11-point lead in the final 8:15 before Jack's game-winning basket. North Carolina trailed 71-60 before storming back behind the solid inside play of Sean May, who made one of two free throws to give the Tar Heels (18-10) an 82-81 lead with 9.8 seconds to play.
Maryland 87, No. 15 Wake Forest 86
Greensboro, N.C. -- John Gilchrist made one of two free throws with 3.7 seconds to play to help Maryland win its third consecutive game to advance to the ACC semifinals. Maryland (17-11) advanced to play second-seeded North Carolina State today. Although the Terps probably didn't need the victory to secure their 11th consecutive NCAA berth, they'd love the automatic bid that comes with winning the ACC tournament -- something they haven't done in 20 years, when Len Bias and coach Lefty Driesell captured the title.
No. 17 N.C. State 78, Florida State 71
Greensboro, N.C. -- Julius Hodge scored 19 points to lead North Carolina State past Florida State in the ACC quarterfinals. Marcus Melvin added 16 points and eight rebounds for the Wolfpack (20-8). Tim Pickett scored 23 points for the Seminoles (18-13).
CS Northridge 63, No. 22 Utah State 62
Anaheim, Calif. -- Joseph Frazier made a three-pointer with 29.6 seconds to play to give Cal State Northridge a victory over Utah State in the semifinals of the Big West tournament. Frazier finished with 13 points, and Ian Boylan led had 27 for the sixth-seeded Matadors (14-15), who will face either Pacific or Idaho in tonight's championship game.
Late Thursday Game
No. 21 Arizona 79, USC 76
Los Angeles -- Freshman Mustafa Shakur made a three-pointer as time expired late Thursday night, giving Arizona a victory in the first round of the Pac-10 tournament.
Copyright 2017 The Associated Press. All rights reserved. This material may not be published, broadcast, rewritten or redistributed. We strive to uphold our values for every story published.