Eudora — A longtime Eudora meat processing company is expanding to push its locally popular sausage products into the meat cases of about 45 area grocers.
Pyle Meat Co., whose Polish, hot Polish, Cajun and smoked sausages have long been staples at area events and on family tables, is planning a $120,000 expansion of its plant to boost production.
"We're doing this mainly because we get so many calls for it and you hate to keep disappointing people," said Tom Pyle, owner of the 45-year-old company. Plans call for renovating a storage building adjacent to the company's existing store and production plant in downtown Eudora.
The company currently sells sausage from its Eudora store, but its plant does not allow it to make sausage on a large scale.
Pyle said he hoped the 1,500-square-foot expansion would allow the company to begin selling the products in grocery stores in six months.
From the early 1980s to about 2000, the company's sausage was sold in area grocery stores. But about three years ago, federal regulators said Pyle Meat needed to change its production facility to continue selling in stores. The planned expansion will meet federal guidelines for large-scale production.
The expansion is expected to add two jobs. Pyle said he thought the project would double or perhaps triple the company's revenue. It currently sells about $500,000 worth of sausage and beef jerky products a year.
Pyle is optimistic that the expansion will keep the family business, which he bought in 1959, going for many years. Roberta Lehmann, one of Pyle's four children who works at the business, also is optimistic about the future.
"I think this is definitely the direction we have to move in if we want to continue moving forward in the future," Lehmann said. "I think the market has always been there for us to do this, but we just never had the confidence.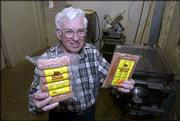 "But now we have set down as a family and said this is our dream and this is what we need to do."
Cliff Pash, owner of Lawrence-based Century Concessions, has been buying Pyle's sausage for 15 years to sell at events like Lawrence's Art in the Park.
"Wherever I go, I have people ask me where they can get their sausage and I always direct them to Tom's store," Pash said. "They definitely have a strong following."
The company has experience in marketing its products to area grocery stores.
In the early 1980s, the company began selling its Pyle Hombre Beef Jerky and Pyle Hombre Beef Sticks to grocery stores and convenience stores. Now the company's jerky and beef sticks are sold in about 250 locations, including several Dillons, Hy-Vee Food and Drug Stores and multiple convenience store chains in the area.
Copyright 2017 The Lawrence Journal-World. All rights reserved. This material may not be published, broadcast, rewritten or redistributed. We strive to uphold our values for every story published.