Port-au-Prince, Haiti — Gerard Latortue, a former U.N. official chosen to lead Haiti out of political turmoil, returned Wednesday from the United States to begin the arduous task of building a government. Loyalists of the former president said they wouldn't accept him.
His arrival came as the U.S. military announced an escalation in its mission in the Caribbean nation, promising Marines will move quickly to stop Haitian-against-Haitian violence.
"They will intervene to protect life," Gen. James T. Hill, commander of U.S. Southern Command, told reporters at the Pentagon.
Since Sunday, Marines have killed at least four Haitians, including a driver who sped toward a checkpoint and a gunman who fired on an anti-Aristide demonstration. On Tuesday, the American troops shot to death two Haitians who opened fire near the outgoing prime minister's private residence.
After walking off a plane that brought him from Florida, Latortue shook hands with police officers and embraced relatives and friends. He was also greeted by members of a council that chose him to be the new prime minister.
Once critical of ousted President Jean-Bertrand Aristide, he has said his first priority will be to unite a population divided between those who oppose the former leader and supporters who want to see him returned to power.
Aristide fled Feb. 29 amid international pressure to step down and a bloody rebellion that left more than 300 dead. The once popular slum priest, elected on promises to champion the poor, lost support as Haitians accused his government of corruption and attacks against his political opponents.
In the Central African Republic, Aristide still maintained he is the legitimate leader of Haiti and that U.S. officials forced him from office. On Wednesday, his lawyers said they were preparing cases accusing authorities in the United States and France of abducting him and forcing him into exile.
U.S. officials have denied they forced Aristide from office, saying they helped him escape Haiti with his life as rebels advanced on the capital.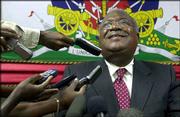 Many Aristide supporters were angry over Tuesday's decision by the U.S.-backed advisory council to name Latortue prime minister.
"He doesn't understand the reality of the country," said Jacques Pierre, 49. "He doesn't understand our hunger."
The 69-year-old Latortue is a former foreign minister and spent part of his career with the U.N. Industrial Development Organization in Africa. He had also worked as an international business consultant in Miami.
Latortue said his first priority was to unite the nation, a difficult task as both rebels and Aristide militants threaten more conflict if improvements do not happen quickly enough for them.
Latortue said he would either restructure the police or reconstitute the army to improve security.
Haiti's army, which ousted Aristide months after he became the nation's first freely elected president in 1990, was disbanded in 1995 after a U.S. invasion restored Aristide to power.
Copyright 2018 The Associated Press. All rights reserved. This material may not be published, broadcast, rewritten or redistributed. We strive to uphold our values for every story published.