It's been nearly 35 years since W. Clarke Wescoe was chancellor of Kansas University.
That didn't stop 250 people from attending a memorial service Wednesday to remember Wescoe, who died at age 83 on Feb. 29 in Kansas City, Kan. The crowd heartened Wescoe's son David.
"Dad's Lawrence years were the happiest of his life," said David Wescoe. "KU was his love and his passion."
Clarke Wescoe led KU from 1960 to 1969, one of the most turbulent periods in the university's history. He dealt with Vietnam War protests and racial tensions, among other issues.
It also was a period of growth, as KU's enrollment increased from 10,036 to 17,790, and the number of faculty increased from 573 to 917.
"He did all the things expected of a chancellor, and he did them well," current Chancellor Robert Hemenway said.
Hemenway said he especially appreciated the advice Wescoe gave him on his inauguration date in 1995.
"He said, 'No matter how bad things get, they could get worse, and they'll get a lot better,'" Hemenway recalled.
Dolph C. Simons Jr., editor of the Journal-World and chairman of its parent company, The World Company, said Wescoe ranked among the smartest chancellors KU has had, but that he also could relate to people of all types.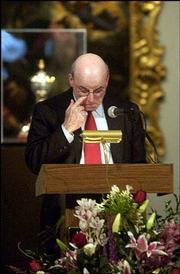 "He could wear jeans and a flannel shirt or a white shirt and tails," Simons said. "No matter where you put him, he did a super job. He was a statesman, a scholar, a man of deep conviction and a gentleman."
Simons also remembered Wescoe's sense of humor and his habit of singing at commencement -- in fact Wescoe was known as the singing chancellor. Simons sang "Hello, Seniors" set to the tune of "Hello, Dolly," and led the crowd in singing "On the Hill Where We Live," set to the tune of "On the Street Where You Live" from "My Fair Lady."
David Wescoe said he especially admired his father for two decisions he made.
The first came immediately after the assassination of President John F. Kennedy. Several universities opted to play their football games that Saturday, but Wescoe canceled the game between KU and Missouri, saying it wasn't an appropriate time for sports.
The second was Wescoe's 1969 decision to cancel an ROTC demonstration at Memorial Stadium that anti-war demonstrators had vowed to interrupt with protests. Wescoe later said KU could have been known for violence, as Kent State is known for its 1970 shootings, David Wescoe said.
After leaving KU, Clarke Wescoe served as chairman of the Sterling Drug Company in New York until 1985. He then moved to Minnesota but returned to Kansas City, Kan., after his wife, Barbara Benton Wescoe, died in 1998.
Wescoe's name lives on at Wescoe Hall on the Lawrence campus, Wescoe Pavilion at the Medical Center and at the Wescoe School at his alma mater, Muhlenberg College in Allentown, Pa. The auditorium at the Hall Center for the Humanities building under construction at KU also will be named for him.
Darrel Proffitt, pastor at St. Margaret's Episcopal Church, led Wednesday's service and said those facilities would continue to remind students of Wescoe's influence on campus.
"He made the greatest impact you can make, which is having an impact on people you never met," Proffitt said.
Born: May 3, 1920, in Allentown, Pa.Died: Sunday, Feb. 29, 2004, in Kansas City, Kan.Memorial service: 4 p.m. March 10 at the Spencer Museum of Art. Private burial is planned at Pioneer Cemetery.Career: Professor of pharmacology at Cornell University, 1948-1951; professor of pharmacology at Kansas University, 1951-1953; director of the KU Medical Center 1953-1960; KU chancellor, 1960-1969; vice president and later chairman of Sterling Drug Inc., 1970-1985.Namesakes: Two KU buildings are named for Wescoe -- Wescoe Hall on Jayhawk Boulevard and Wescoe Pavilion at the Med Center. Also, his alma mater, Muhlenberg College, renamed its continuing studies program the Wescoe School.
Copyright 2018 The Lawrence Journal-World. All rights reserved. This material may not be published, broadcast, rewritten or redistributed. We strive to uphold our values for every story published.