Dallas — Gary Steiger, an avid traveler and admitted cheapskate, has been scanning come-ons for free airline travel for a long time and he can't believe his eyes.
Free air miles for opening a bank or brokerage account. Sign up with a long-distance phone company for six months and earn 10,000 miles. Gift cards that let homeowners earn miles on their mortgage payments.
"We're seeing more offers out there," said Steiger, a retired high school teacher in Ross, Calif., who tracks the offers for a frequent fliers Web site. "Airlines are realizing that selling miles to businesses who resell them to their customers is one of the few profit centers airlines have."
Traditional airlines like American and Delta have a new attitude about promotional deals after losing passengers the last few years to low-fare competitors such as Southwest, JetBlue and AirTran. The big carriers are now offering free trips and sweetening the frequent-flier programs that they view as a key advantage over their low-cost rivals.
When upstart JetBlue Airways expanded in the Northeast this year, it threatened American Airlines' stronghold in New York. American retaliated by offering a free ticket anywhere it flies to customers who bought two round-trip tickets between Boston or New York and Florida or California.
The offer had the side benefit of highlighting that American flies around the world and JetBlue doesn't.
"American fears JetBlue more than they fear Southwest right now," said Tom Parsons, publisher of discount travel Web site Bestfares.com.
The free flights will cost American money, but the world's biggest airline hopes the promotion will fill seats on planes leaving the Northeast and stoke interest in its AAdvantage frequent-flier club.
"We wanted to develop a promotion that was less prone to a direct match from some of our competitors," said Dan Garton, a marketing executive for Fort Worth, Texas-based American. "This is a heck of a lot less matchable than simply lopping 10 percent off the fare."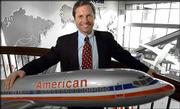 In recent weeks, American also has moved to make its elite frequent-flier programs more enticing. The airline said it would give unlimited upgrades to members of its platinum class beginning March 18 if space is available, except on flights to Europe, Japan and South America. Then it announced it would give free flights to passengers who fly three round trips by June 15, although some discount seats won't count toward the offer.
Those announcements followed a move by American to make it easier to reach the gold, platinum and executive platinum levels of its frequent-flier program.
Delta also offered unlimited upgrades beginning Jan. 1 to customers with at least 25,000 miles, a perk previously available only to 100,000-mile fliers. That move, however, came only after travelers complained when Delta began to base membership in the elite programs on how much customers spent, not how many miles they flew -- a move copied by Houston-based Continental Airlines last fall.
"There's not a major frequent-flier program that hasn't made some changes in the last two years," said Randy Petersen, editor of InsideFlyer magazine.
The most dramatic change has been to let customers earn miles by buying a variety of items other than airline tickets. Petersen said about 60 percent of all miles earned now come from purchases other than air travel.
All those deals, however, raise the chances that travelers won't be able to cash in their miles when they want to use them.
A few years ago, aggressive promotions helped create a glut of miles chasing a limited number of seats that the airlines made available to customers flying on free tickets. People who track the programs say more travelers are complaining about being unable to book a flight or get an upgrade.
Part of the difficulty lies in the capacity cuts airlines made after the 2001 terror attacks. Airlines are operating fewer planes but keeping them more full than at any time in the past three years, and they're not eager to set aside lots of free seats.
There can be a downside in the future to the promotional deals -- they might disappear or be downsized if they work well. That's what happened to one the most successful airline promotions of recent years.
In 1997, when airlines were just beginning to experiment with selling tickets on the Internet, Southwest offered double points toward free flights for consumers using its southwest.com site.
Southwest officials credit the promotion with building the airline's Web site. The Dallas-based carrier now sells about 55 percent of its tickets on the site -- believed to be the highest proportion in the industry, and a huge cost savings over using call centers and travel agents.
But in January, Southwest dropped the double-credit reward, offering instead a single bonus credit for each roundtrip flight booked at the carrier's Web site.
"The promotion had done its job," said Karen Wright, Southwest's manager of loyalty marketing.
Copyright 2018 The Associated Press. All rights reserved. This material may not be published, broadcast, rewritten or redistributed. We strive to uphold our values for every story published.