Lansing — There was no second-guessing Eudora High boys basketball coach Scott Stein when trying to figure out why the Cardinals couldn't hang with Kansas City Sumner on Friday night in the Class 4A sub-state semifinals.
"You can't go 0-fer in the second quarter against the second-ranked team in the state," Stein said. "You can't go 0-fer. You just can't and expect to win."
Eudora missed all seven of its shots in the second quarter -- six of them three-point tries -- and dug itself a hole that steadily grew deeper.
Sumner 60, Eudora 36.
The Sabres advanced to the sub-state title game against Kansas City Piper at 7:30 p.m. tonight at Lansing High.
The Eudora girls will play Kansas City Ward at 6 p.m. in the girls' sub-state final.
The Cardinals (11-11) knew Sumner was more athletic and had more depth, but they didn't show any fear early. They repeatedly fed the ball to senior Chris Gabriel in the post. He promptly scored six points and gave Eudora a 12-11 lead six minutes into the game.
Suddenly the Cardinals forgot what was working, however, and quit giving the ball to Gabriel, and the offense unraveled. Eudora didn't score in the final two minutes of the first quarter. The Cards also were shut out in the second quarter -- including three missed free throws -- as Sumner closed the half with a 16-0 run and took a 27-12 lead.
"We went dead in the second quarter and just couldn't get anything in the hoop," Gabriel said. "Then some of our players got in foul trouble."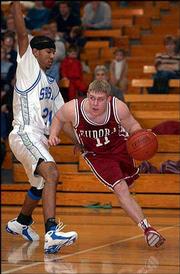 Eudora looked to Gabriel repeatedly in the second half and found success often, but by then it was too late. Sumner (20-2) was far too talented to let the lead slip away.
Instead, it added to its advantage. Michael Hutchingson scored eight of his team-high 15 points for Sumner in the fourth quarter and helped end the Cardinals' season.
Gabriel accounted for 58 percent of Eudora's offense, scoring a game-high 21 points and grabbing eight rebounds. The Cardinals' next scorer had four points.
"We need to develop some shooters," Stein said. "We've got to have some kids work on shooting. Although I do think we have some young kids who can eventually shoot the ball, they didn't play much this year."
Kansas City Piper 66, De Soto 55, OT
Damian Young scored six points, and Leo Criswell added five in overtime and sparked K.C. Piper past De Soto.
Piper (16-6) jumped to an early 19-12 lead, but Criswell went scoreless in the middle two quarters, and De Soto hung close.
Danny Brown scored eight points in the fourth quarter for the Wildcats (10-12) and forced overtime before Piper pulled away with a 15-4 run in the extra period.
Young led all scorers with 22 points, and Criswell added 16 for the Pirates. Brown led the Wildcats with 20 points.
Copyright 2017 The Lawrence Journal-World. All rights reserved. This material may not be published, broadcast, rewritten or redistributed. We strive to uphold our values for every story published.