The Rev. Jeff Lilley makes no secret of his hobby -- or, rather, his passion.
The license plates on his black Ford Expedition read: "LV2SAIL."
When Lilley, 42, isn't busy attending to his duties as pastor of Good Shepherd Lutheran Church, 2211 Inverness Drive, you'll find him either sailing at Lake Perry -- weather permitting -- or at least thinking about it. It's a pursuit that Lilley and his whole family have enjoyed the past five or six years, but it has really captured the heart of this pastor.
So much so that Lilley, who has served at Good Shepherd since 1995, has launched a project to build a 17-foot wooden sailboat in his garage.
The sailboat he's constructing is called a Penobscot 17, a single-mast craft with two sails.
Lilley ordered the study plans and 12 pages of blueprints on the Internet from boat designer Arch Davis in Belfast, Maine. He started constructing the boat in December and hopes to have it complete by spring or early summer. In July, he plans to take the boat on a family vacation to Maine and show it to Davis.
The project is a kind of Noah's Ark for Lilley, providing an escape not from rising waters but from the everyday stresses of being a pastor.
"My boat never needs counseling. It's a kind of mental-health break for me. I love working with my hands, having to figure stuff out," he said. "There are some tools that I needed (for the project) that I didn't have, so I built them."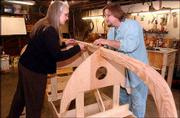 The Lilleys, members of the Perry Yacht Club, previously owned two boats -- a 26-foot sailboat called an American, and a 1957 Wagemaker Wolverine, a 15-foot, mahogany outboard motorboat that Lilley had restored. The family sold those boats last year, knowing Lilley was planning to build a new boat.
Lilley's wife, Jean -- executive director of Lawrence Habitat for Humanity -- fully approved of the project.
"Jeff does have a busy life and sometimes very frustrating. He'll come down here and work and feel much more relaxed. He gets out here, and he's in a whole different world. He can dream while he's doing it," she said.
Maiden voyage
The Lilleys first got into sailing when their friends Brian and Kelly Engelke, of Ozawkie, invited them to come along and sail in that couple's boat, a Columbia 34 model, at Lake Perry.
It was the first time Jeff and Jean Lilley had ever sailed together.
"It was fantastic," Jeff recalled.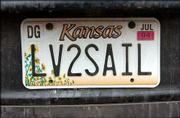 "The next thing we knew, we were shopping for a boat," Jean said.
The Lilleys bought the 26-foot American sailboat in 1999 and got to work on it.
"It was a mess when we bought it. It had 1970s brown, shag carpet, and the boat was a pinky-beige color inside," Jeff said.
The couple cleaned it up, reinforced the rigging and got the sailboat in ship-shape condition. They started sailing together in summer of 1999 at Lake Perry. Brian Engelke taught them what they needed to know and took them out on their first sail in the boat.
The experience was terrific, but the next time the Lilley family sailed in boat -- by themselves, without expert guidance -- it didn't go so smoothly.
"We just got nailed (by strong winds)," Jeff said, laughing.
"After we got it back in the slip, the first thing I said was, 'So, do you think you still want to sail?' It just got better and better after that. Now we're pretty good sailors."
The couple is often joined by their children on their sailing adventures. Meghann, 17, is a junior at Lawrence High School. And Seth, 12, is a seventh-grader at Central Junior High School.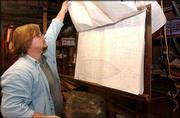 "I'm usually at the helm and Jeff's trimming sails, and that's the way I like it," Jean said. "Meg's usually in the 'babe spot' at the front of the boat, where the sun is, and Seth likes handling the jib -- the front sail."
Spiritually healthy
With those learning experiences behind them, the Lilleys are ready for more challenging waters.
Last summer, while Jeff was on sabbatical from Good Shepherd from May 11 to August 10, the family spent a week taking certification courses from the American Sailing Assn. in San Diego.
"We were learning to skipper a boat so that we could charter a boat up to 60-feet (in length) for coastal cruising," Jeff said.
But that's really just the beginning.
"This is sort of a prelude. When our call is finished at Good Shepherd is finished, we're going to take some time off and sail for a year. I don't want to wait until I retire to do this," Jeff said.
"That's our threat to the kids. We tell them that we're going to retire on a boat, and there won't be any home for them to move back to," Jean added.
The boat Jeff is building -- he estimated he will put 300 to 400 hours into the project before he's done -- will be dubbed the "Leona B." It will be named in honor of Jean's mother, Leona Bergstraesser of WaKeeney, who died in 1995.
Jeff's new sailboat will be crafted out of white oak, Southern yellow pine, epoxy and stainless-steel screws. As well as lots of effort and attention to detail.
He explained why the task of building a boat appealed to him.
"I'm never done in my job (as pastor). But when I finish the bulkheads, I know I'm done with that part. There's a tangible sense of progress and completion," Jeff said.
"And frankly, it's spiritually healthy for me. I enjoy creating things. I'm probably more of an artist than anything."
Copyright 2018 The Lawrence Journal-World. All rights reserved. This material may not be published, broadcast, rewritten or redistributed. We strive to uphold our values for every story published.