Boston — With the Boston Celtics running and winning again, Paul Pierce took a little time to smile and stroll through the stands.
Pierce scored 24 points, grabbed 10 rebounds and had eight assists to lead the Celtics to their fourth straight win, 94-90 over the Washington Wizards Friday night.
Boston, which trailed 65-60 after three quarters, opened the fourth with a 6-0 run ending with Davis' fast-break layup. After the Wizards went ahead 68-66, the Celtics took the lead for good with a 14-7 run over the ensuing 5:34. Davis had six points in the spree.
During the run, Pierce was knocked out of bounds going after a loose ball near center court and slapped high fives with fans in the first two rows as he walked down the aisle to the baseline.
"I think the chemistry is starting to come together," Pierce said. "This was a big win for us. This was a team that we are battling with for the eighth spot for the playoffs."
The Celtics used their fast break to create a few easy baskets and crowd-pleasing dunks in the final quarter. It was the type of play general manager Danny Ainge talked about wanting to see when he traded Antoine Walker before the season.
Boston coach John Carroll felt rookie point guard Marcus Banks was the player that picked up the offense in the final quarter.
"I think that's the best game he's played," Carroll said.
Pacers 96, Jazz 88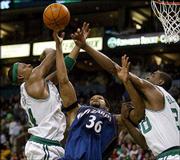 Salt Lake City -- Ron Artest scored eight of his 17 points in the fourth quarter and Reggie Miller hit a three-pointer with 24.9 seconds remaining to lift Indiana. Jermaine O'Neal had 30 points and 10 rebounds and Fred Jones scored 10 for the Pacers.
Nets 78, Warriors 74
Oakland, Calif. -- Richard Jefferson scored 23 points and New Jersey made a late rally to defeat Golden State. Jason Richardson scored 22 points for the Warriors, who lost their fourth straight.
Magic 101, Hawks 96
Orlando, Fla. -- Tracy McGrady had 28 points and Tyronn Lue scored eight consecutive points in the final 1:42 for Orlando's third victory over the Hawks this season. Lue made two free throws to put Orlando ahead 99-96 with 11.6 seconds to play.
Knicks 109, Raptors 103
Toronto -- Stephon Marbury had 35 points and Nazr Mohammed had a season-high 20 points and 18 rebounds to make New York coach Lenny Wilkens a winner in his return to Toronto.
Lakers 99, Sonics 91
Los Angeles -- Shaquille O'Neal took over after Kobe Bryant went out early with a shoulder injury, scoring 32 points in Los Angeles' victory over Seattle. O'Neal added eight rebounds and six assists as Los Angeles won for the ninth time in 11 games.
Cavaliers 88, Hornets 85
New Orleans -- LeBron James scored 19 points and Carlos Boozer had 18 to lead Cleveland past New Orleans. James hit a three-pointer with 1:22 left to put Cleveland ahead 84-83, and Boozer made a pair of free throws with 6 seconds remaining for the final margin.
Spurs 113, Mavs 100
San Antonio -- Tony Parker scored 25 points, Hedo Turkoglu added 21 and San Antonio put together two big first-half runs and then held off a fourth-quarter comeback for a win over Dallas. Dirk Nowitzki, held to four points in the first three periods, went 7-for-9 in the fourth for 17 points as the Mavericks slashed a 26-point deficit to 95-90 with nearly three minutes remaining.
Rockets 112, T'wolves 109
Minneapolis -- Yao Ming scored 27 points and Steve Francis added 25 as Houston outlasted Minnesota. The Timberwolves had a chance to tie the game with 3.4 seconds left, but Troy Hudson's three-pointer hit the front of the rim.
Copyright 2018 The Associated Press. All rights reserved. This material may not be published, broadcast, rewritten or redistributed. We strive to uphold our values for every story published.