Kansas University third baseman Travis Metcalf predicted he would hit two home runs Friday.
He was only half right.
The junior from Wamego blasted a solo shot in the fifth inning, and the rest of the Jayhawks backed Metcalf with five more home runs in a 22-6 rout of Wisconsin-Milwaukee at Hoglund Ballpark.
"So, he's calling his shots now," quipped Ryan Baty, who blasted a two-run homer during KU's five-run fifth inning, in which the Jayhawks hit three of their six home runs.
The usually soft-spoken Metcalf basically was agreeing with a fellow student in a sports marketing class Friday who said: "I want two today."
"A friend of mine in marketing ... every day I see him he's always wanting something from me," Metcalf said with a smile. "Today he wanted two, but it didn't happen."
Not that the Big 12 Conference's home-run leader didn't give it a shot.
After connecting on his seventh homer of the season, a 400-plus foot blast that soared above KU's 25-foot wall in center, Metcalf kept swinging for the fences in the sixth and seventh innings.
"I was looking for something to groove," said Metcalf, who had an opportunity for a grand slam in the seventh, but walked instead.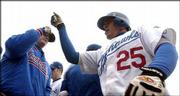 While Friday's victory broke a handful of records for second-year KU coach Ritch Price's (13-7-1) squad, it was the home-run-derby atmosphere that made another cold day memorable.
"We swung the bats really good once again today," said Price, whose team set records for runs (22), hits (26), and home runs (6) during his tenure.
"The ball was jumping. That's the most home runs I've seen in a game since I've been here. The three balls they hit out were shots, too. The wind must have been howling above the lights."
The Jayhawks were one short of tying the school record for homers in a game. Kansas scored 17 or more runs for the third straight game, a feat that marks the first time the Jayhawks have done that since a four-game stretch in the 1993 season in which KU outscored its opponents 98-5.
Kansas, as it has done throughout its six-game winning streak, got things going early.
Matt Baty led off the first with a double, marking the eighth straight time he has reached base as a leadoff hitter during KU's first inning. Baty advanced to third on Ritchie Price's sacrifice bunt and scored on Sean Richardson's sacrifice fly.
Ryan Baty singled and scored on a throwing error. Andy Scholl's first home run of the season plated three Jayhawks, while J.C. Sibley's two-run bomb gave Kansas a 7-0 lead in the first.
The Jayhawks added five more in the third, including a homer by senior Matt Tribble, which extended his hitting streak to 12 games.
The Panthers, who were playing in their first game of the year, knocked out three home runs of their own by the fifth, but still found themselves down 12 runs.
Kansas, which will start junior Clint Schambach today at 1 p.m. in the second of a three-game series with the Panthers, added another five-spot in the third -- and five more runs in the final three innings.
Copyright 2018 The Lawrence Journal-World. All rights reserved. This material may not be published, broadcast, rewritten or redistributed. We strive to uphold our values for every story published.