New York — Martha Stewart's conviction will badly damage her company, scaring advertisers and perhaps readers and viewers away from her media business, industry experts said. Sales of her towels and other household goods may hold up better.
Within an hour of the verdict, Martha Stewart Living Omnimedia Inc. issued a statement saying the board would meet promptly to carefully "evaluate the situation and take actions as appropriate."
"In the meantime, we are confident that our assets ... are more than sufficient to continue MSO's development as a leading 'how to' brand building company," it said.
Observers, however, believe it will be difficult to sustain the brand with the name and face of the company tarnished by a conviction -- especially with competition that has intensified since Stewart's legal woes began 22 months ago.
Stewart was found guilty Friday of obstructing justice and lying to the government about a stock sale. She said she would appeal.
"This is a terrible tragedy for a great brand," said Seth Siegel, co-founder of The Beanstalk Group, a trademark licensing agency.
With the conviction, the government may press to have Stewart removed from the board of her company. Stewart, who owns 61.2 percent of her multimedia empire, resigned as chief executive after being indicted last summer but remained as chief creative officer.
Stewart's company, which has been adding new magazines and TV shows without her name over the past year -- "Petkeeping with Marc Morrone" and "Everyday Food" -- will have to keep developing other brands or personalities, Siegel said.
"The company can still survive because it has phenomenal infrastructure," Siegel said, although he added that it could take years for many advertisers to return.
The company "has to rebuild itself," said T.K. MacKay, an analyst at Morningstar. "There have been dramatic declines in ad revenue."
The good news, analysts said, is Martha Stewart Living has $170 million in cash on hand, enough to withstand several more quarters of declining ad revenue.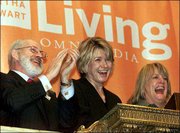 Copyright 2017 The Associated Press. All rights reserved. This material may not be published, broadcast, rewritten or redistributed. We strive to uphold our values for every story published.