One of the state's best-known child advocacy groups on Friday challenged Rep. Barbara Ballard, D-Lawrence, to put her vote where her mouth is.
"She had the opportunity to show her support, and she chose not to," said Gary Brunk, executive director at Kansas Action for Children. "She'll have ample opportunities to show her support in the future. I hope she comes through."
Brunk and other child advocates are upset that Ballard went along with a House budget subcommittee's call for spending $7.5 million -- rather than the $10 million proposed by Gov. Kathleen Sebelius -- on Smart Start, a grant program that helps fund day care, preschool and early childhood programs in 19 counties.
A $193,778 Smart Start grant underwrites several children's programs in Douglas County.
"Our Smart Start funding has been flat for the last three years," said Rich Minder, collaborative projects coordinator at Success by 6, the Lawrence-based program that administers the grant.
"The governor's $10 million would expand the program into other counties and put more money into existing programs like we have in Douglas County," Minder said. "We have a lot of (children's) needs that aren't being met. We want to do more."
The governor's proposal represents a $6.8 million increase in Smart Start spending.
Ballard, a past president of the Lawrence school board, said her support for the subcommittee report did not mean she opposed the governor's plan.
"There wasn't a vote," she said, referring to the subcommittee's deliberations. "We don't vote on things in subcommittee; we just sort of reach a consensus and move on."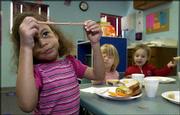 Ballard said others on the eight-member subcommittee thought the governor's plan shortchanged other worthy programs, most notably so-called family preservation services.
"They shifted money around," she said. "Smart Start still got a sizable increase."
When the full House Appropriations Committee debated the subcommittee's recommendations Thursday, Ballard voted with the Republican majority.
That, too, did not mean she's opposed to Sebelius' proposal, she said.
"This is just the first of many, many steps that you have to take to pass a budget," Ballard said. "If somebody would make a motion to go with $10 million instead of $7.5 million, I'd vote for that. Everybody knows I would."
Asked if she would make that motion, Ballard replied that after 10 years in the Legislature she had learned "to give because if you don't, they'll start taking from you."
Smart Start supporters gathered Friday for a breakfast rally at Lawrence's Hereford House restaurant. Several speakers, including former welfare secretary Rochelle Chronister, encouraged the group to lobby their legislators.
"As a former legislator, I can tell you that three phone calls from constituents on an issue like this makes a difference," Chronister said. "Three phone calls is a landslide."
Copyright 2018 The Lawrence Journal-World. All rights reserved. This material may not be published, broadcast, rewritten or redistributed. We strive to uphold our values for every story published.