Wallace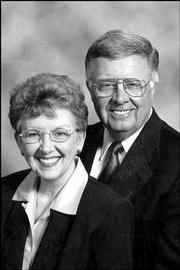 Cliff and Carol Wallace, Lawrence, will celebrate their 50th wedding anniversary with a reception from 2 p.m. to 4 p.m. Sunday at Plymouth Congregational Church, 925 Vt. Friends are invited to share in the celebration. The couple request no gifts.
Clifford L. Wallace and B. Carol Lyster were married March 7, 1954, at Grace Methodist Church in Emporia. They met while attending Emporia High School.
They have been Lawrence residents since 1961. Cliff spent 27 years working in the finance business, with the last 16 years at Douglas County Bank. Since leaving the bank in 1985, he has been an independent agent working with life and health insurance. Carol retired from USD 497 in 1996 after working 29 years; the last 18 years were spent in continuing education. Since retirement, she has joined her husband in their insurance business, specializing in long-term care insurance.
They are active volunteers with several nonprofit organizations in Lawrence.
They have two children, Chris Wallace, Parkville, Mo., and Carrie Brzon, Kansas City, Mo., four grandchildren and one great-grandchild.
Hoffman
Charles and Mae Hoffman, Lawrence, will celebrate their 71st wedding anniversary on Monday.
Charles Hoffman and Mae Pippert were married March 8, 1933, near Worden. Their children are Betty Wright and Charlotte Sparkes, both of Lawrence. They have five grandchildren and seven great-grandchildren.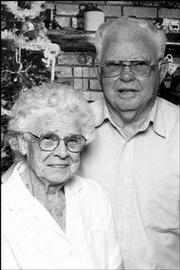 Copyright 2018 The Lawrence Journal-World. All rights reserved. This material may not be published, broadcast, rewritten or redistributed. We strive to uphold our values for every story published.