Pat Grzenda isn't your typical teacher.
She doesn't have her own classroom or school. And she spends part of her instructional time in a swimming pool.
But that didn't keep Grzenda from being named one of the state's top teachers this year. Emporia State University has designated her a Kansas master teacher and will honor her during a ceremony later this month.
"My teaching role isn't something you'd automatically think of," Grzenda said. "It's nice to be able to be recognized for these interesting and nontraditional kinds of teaching."
Grzenda, an adaptive physical education teacher, is the 10th Lawrence educator to be designated a master teacher during the program's 50 years. The most recent honoree, in 1998, was Brian "Chip" Anderson, then a Central Junior High School math teacher.
The Lawrence school district named Grzenda its master teacher of the year in November. Her name was forwarded to the statewide program, where she was selected as one of seven master teachers. She'll participate in a daylong workshop and awards event March 16 in Emporia.
Grzenda, who has bachelor's and master's degrees from Kansas University, spends her day commuting among Lawrence schools and helping students with physical disabilities participate in physical education activities. Activities range from strengthening students' legs so they can rise from their wheelchairs to helping students with sensory problems coordinate their movements.
She's had the position 27 years. She also is a former Lawrence High School and Free State High School swimming coach, and she still gets some of her students in the pool for their physical training.
Paula Flannery, also a special education teacher, nominated Grzenda for the honor. Flannery said Grzenda was convinced each student could participate in physical education activities at some level.
"There is no manual for this job, because each student is different," Flannery said. "There is only Pat's belief in the dignity and uniqueness of each student and their ability to show progress at their own level."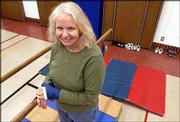 Copyright 2018 The Lawrence Journal-World. All rights reserved. This material may not be published, broadcast, rewritten or redistributed. We strive to uphold our values for every story published.