SAN ANTONIO — It was a finish where the San Antonio Spurs really could have used their go-to guy.
But, with the injured Tim Duncan in street clothes, the Spurs' final minute of Monday's night 81-80 loss to Memphis consisted of a shot-clock violation followed by a desperate, falling-down shot that couldn't clear the front of the rim.
Lorenzen Wright provided the margin of victory for the Grizzlies when he put back his own missed four-footer with 19.2 seconds remaining.
"I wanted to be aggressive and go after the loose ball and get the rebound," Wright said. "Then the ball ended up in my hands, and I went back up strong."
Wright's layup capped a 14-point rally by Memphis in the fourth quarter, as the Spurs managed only one field goal in the final 9:27 of the game.
"We couldn't take decent shots at all in the fourth quarter," said Manu Ginobili, who scored that lone basket at 2:05.
"We have to give them credit, though, for the great defensive pressure," said Ginobili, who finished with 15 points and a career-high nine assists. "We stopped moving the ball. ... There was no movement, so we couldn't take open shots."
Malik Rose put San Antonio back ahead 80-79 with two free throws at 1:08, and the Spurs had the ball after Memphis' Shane Battier missed a 17-footer.
Then the Grizzlies had their best defensive possessions in the final minute.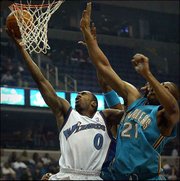 First they forced San Antonio point guard Jason Hart into a shot-clock violation with 28.9 seconds left.
Then, after Wright's putback, Memphis' suffocating defense made it hard for the Spurs to get a final shot off.
Rose drove the baseline in the waning seconds, but he took his shot while falling backward. It hit off the front of the rim and Memphis' James Posey hustled for the rebound as time expired.
Posey, who had averaged 24.2 points in his previous five games, scored only five points on 2-for-11 shooting. Pau Gasol's 11 points and five rebounds were well shy of his team-leading 17.6 ppg and 7.7 rpg. Jason Williams, averaging seven assists, managed only two.
But San Antonio was less successful with the Memphis reserves, particularly at the end.
"Once again our second group bailed us out," Grizzlies coach Hubie Brown said.
The bench players led a 13-0 run after Hedo Turkoglu's three-pointer at 9:27 put the Spurs ahead 74-63. Earl Watson made a 15-footer and then a three-pointer to give Memphis its first lead of the game at 76-74 with 5:13 left.
"Earl Watson was key," Battier said. "He really did singlehandedly turn the momentum of the game in our favor."
Watson led Memphis with 13 points, while Wright had 12 and Bo Outlaw 10.
Wizards 111,
Hornets 106, OT
Washington -- Gilbert Arenas scored eight of his 35 points in overtime, and the Wizards recovered after blowing a 21-point second-half lead. The Wizards scored more points in the five-minute overtime (15) than they did in the entire fourth quarter (10).
Jarvis Hayes, starting for injured swingman Jerry Stackhouse, added 16 points for the Wizards, who shot 52 percent and have won three of four.
Baron Davis scored 18 of his 33 points in the fourth quarter and overtime, and added 11 assists for the Hornets. Jamal Mashburn scored 28 points, and Jamal Magloire had 18 points and 14 rebounds. New Orleans has lost four straight road games.
Celtics 117, Magic 96
Boston -- Mark Blount had career highs of 28 points and 21 rebounds -- the Celtics' first 20-20 game in 10 years -- and Boston scored the first 25 points of the fourth quarter. The Celtics won their third consecutive game and just their fourth under interim coach John Carroll, who took over when Jim O'Brien resigned Jan. 27. Blount had his fifth consecutive double-double, and Paul Pierce, a former Kansas University standout, scored 25 points with nine assists for Boston. Tracy McGrady, the NBA's leading scorer, had 29 points for Orlando after playing just two minutes in the first quarter because of foul trouble.
Bulls 92, Cavaliers 81
Chicago -- Two days after becoming the first rookie with a triple-double this season, Kirk Hinrich, a KU product, came close to a second with 22 points, eight rebounds and seven assists. He had 11 points during a critical third-quarter spurt and made several shots worthy of a highlight reel -- including a rare dunk.
When Hinrich left the game with less than a minute to play, fans gave him a standing ovation.
LeBron James had 18 points, but he shot just 7-of-17 with three rebounds and three assists. Zydrunas Ilgauskas had 19 points and 10 rebounds to lead Cleveland, which lost for only the second time in six games. Carlos Boozer had 13 rebounds.
Hinrich has been on a tear recently with the triple-double and a season-high 25 points Feb. 21. But facing James seemed to bring out his best.
Jazz 94, Pistons 86
Salt Lake City -- Reserve Gordan Giricek scored 24 points to lead Utah past Detroit for the Jazz's fourth straight win. Giricek had his best game since coming to the Jazz in a trade from Orlando for DeShawn Stevenson six games ago. Giricek made 10 of 17 shots, including all four of his three-point attempts. Aleksandar Pavlovic scored 15 points, Carlos Arroyo had 13 and Andrei Kirilenko added 11 points, eight rebounds, six blocks and four steals.
Copyright 2017 The Associated Press. All rights reserved. This material may not be published, broadcast, rewritten or redistributed. We strive to uphold our values for every story published.