WIMBLEDON, England — Two-time defending champion Serena Williams served 12 aces -- including one clocked at a Wimbledon women's record of 126 mph -- and overwhelmed 16-year-old Tatiana Golovin, 6-2, 6-1, Tuesday to advance to the Wimbledon quarterfinals.
Williams crushed the Russian-born French player in 55 minutes on Centre Court to set up a marquee Grand Slam quarterfinal rematch against Jennifer Capriati.
Capriati, who defeated Nadia Petrova, 6-4, 6-4, in another fourth-round match, beat Williams in the quarterfinals of the French Open last month. Now they'll meet in the Wimbledon quarters for the third time in four years.
"I think we definitely have a nice rivalry going on," Williams said. "It's good, I like it."
In the bottom half of the draw, Lindsay Davenport became the first player to reach the semifinals as she swept 19-year-old Karolina Sprem, 6-2, 6-2, in 51 minutes.
Davenport, the 1999 champion, reached the semis for the fourth time. Sprem, a Croat who defeated former two-time champion Venus Williams in the second round, had 21 unforced errors.
The fifth-seeded Davenport will face 17-year-old Russian Maria Sharapova, who underlined her reputation as the biggest new standout in the game by beating Ai Sugiyama, 5-7, 7-5, 6-1, to make her first Grand Slam semifinal.
Also advancing to the quarters in the top half was Amelie Mauresmo, who beat Silvia Farina Elia, 7-5, 6-3. The fourth-seeded Frenchwoman, who reached the semifinals here in 2002, served eight aces and had 29 winners to beat the Italian in 1 hour, 27 minutes on Court 2.
Mauresmo next will play Paola Suarez, who downed Rita Grande, 4-6, 6-0, 6-2, to reach her first Wimbledon quarterfinal.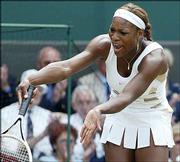 Copyright 2018 The Associated Press. All rights reserved. This material may not be published, broadcast, rewritten or redistributed. We strive to uphold our values for every story published.